In October, I told you that I'd soon announce what was next, and I'd have a holiday surprise for you, too. Well, I'm late posting this, but I'm finally here to deliver on those promises. Without further ado, my next novel will be THE OTHER HALF OF THE GRAVE, a new look at the origin story of Cat and Bones told through Bones's eyes.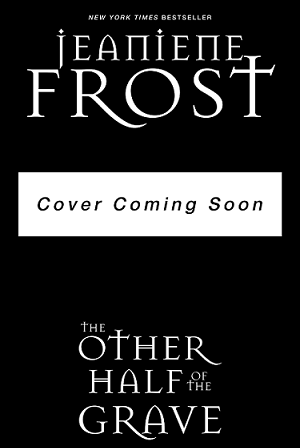 Ever wondered what Bones was thinking and feeling when he and Cat first met? Or how their story might differ if he were the one telling it?
Coming April 26th, 2022, THE OTHER HALF OF THE GRAVE answers all those questions and more! Relive the beginning of Cat and Bones's bestselling love story through Bones's point of view, which shows a darker, sexier take on their early days, as well as a deeper dive into parts of the vampire world that Cat didn't see when their story was told only through her eyes in HALFWAY TO THE GRAVE.
Preorder THE OTHER HALF OF THE GRAVE at #Ad Amazon, B&N, Apple Books, Kobo, or your favorite retailer.
***
If you're not familiar with how THE OTHER HALF OF THE GRAVE started, I originally published it as free, partial serial back in 2019, intending it as only a fun glimpse of some early chapters from Bones's point of view. I never intended to turn it into an entire book, but reader response, plus my own enjoyment, convinced me to finally finish it. 
Will this be out in audio, too?
Yes. We are planning on a simultaneous audio release along with the ebook on April 26th, 2022. To match how this story is told exclusively through Bones' point of view (versus how all the Night Huntress series was told exclusively through Cat's point of view), we are changing audio narrators to an as-yet-unannounced male narrator. More soon on who.
Why did you start writing it to begin with?
Long version here. Short version: In September 2019, I re-wrote the first time Cat and Bones met from Bones's point of view and posted it in two chapters on my blog. Readers overwhelmingly asked for more, so I took a month's break from deadlines and wrote 30K more. Then, I had other contracted novels to finish, so I stopped there. Now that I'm caught up on my deadlines, I finished the story, and I'm so excited to share it with you.
Will you be posting more free chapters before you release THE OTHER HALF OF THE GRAVE?
Yes! Scroll down on this page for the first new chapter, AND to thank you for your patience, I'm adding a holiday giveaway on this and each new chapter posted during the month of December (hint: after this post, you'll want to check my blog on Fridays, starting this Friday, December 17th :))
Where can I find the previous, not-yet-revised chapters to read for free?
For now, they're below, but once the book goes through edits and revisions, I'll be taking them down because there will be changes from what's there now compared to what will be in the final version. Also, I updated the technology to today's time, and made a few other changes as well, such as Cat having a cell phone. Back when I originally wrote Halfway to the Grave, it would have been unusual, but not unheard of, for Cat not to have a cell phone. Now, however, I think new readers would find that less believable than her being half-vampire.
But I wanted you to write another Vlad and Leila novel! Will you ever do that?
Actually…I might. When I said months ago that Vlad and Bones were in a (metaphorical) contest over who would get the next story, well, Bones won, and Vlad is NOT happy about that. You might even say that Vlad has been dangling new story ideas in my head ever since because he's firmly convinced that he is far more deserving of an additional story than Bones is (those two, right?) So, there might be another Night Prince novel in the future. I'll let you know 🙂
Read the UNEDITED early chapters of THE OTHER HALF OF THE GRAVE below:
Chapter Seventeen below
Reminder that this is unedited, so there may be spelling and/or grammar errors that will be fixed upon publication. 
Copyright Jeaniene Frost. All rights reserved
Chapter Seventeen
Bones landed about twenty meters from the gray sedan parked along the highway's shoulder. The car's driver didn't notice him dropping out of the sky. Humans rarely did. When you didn't know vampires existed, let alone that some of them could fly, you manufactured other explanations for how someone could suddenly appear in your line of vision.
Thus, the driver's surprised blink when Bones walked toward him. His shifting gaze indicated wariness, but he wasn't afraid. When Bones tapped on his window, he lowered it an inch to say "I don't need any help. Triple A is on the way."
The line that identified him as the client, as if Bones hadn't recognized him from his gray hair, thin features, and the moles darkening his ecru-colored skin. This was George Shayne.
Bones replied with the line meant to confirm his identity, too. "Yes, but my services are guaranteed."
George's breath exploded out with relief. Just as quickly, though, his wariness returned, this time with a hint of fear wafting through the cigarette scent that clung to him.
"You're early. Does that mean it's…done?"
Bones lifted the bag containing Sergio's head. George recoiled out of instinctual disgust. Then, his features hardened, and he leaned forward to get a better look.
"It's just a skull," he said in confusion. "How do I know this is the animal that killed my daughter?"
Vampires decomposed back to their true age after death. There was now little left of Sergio's head aside from bits shriveled skin that still stubbornly clung to his cranium.
Bones held out his mobile with his free hand. When he deposited Sergio into the car's boot earlier, he'd snapped a picture. Sergio had been so newly dead then that decomposition hadn't done its full work, so his features were still recognizable as the last man that Aurora Shayne had been seen with.
Sergio hadn't bothered to erase the club's security footage when he kidnapped her. He also hadn't bothered to hide Aurora's body after he killed her. That's how arrogant he was.
But George Shayne, a widower with no other children, wasn't content to wait for the legal system to administer justice. He wanted it in blood. George had also done a decent job getting the word out to the right places. The contract was a small one, but Bones would've taken it even if it didn't provide cover for him killing Sergio in the vampire world. Justice in the form of blood was exactly what Sergio had deserved.
"I de-fleshed the skull to make it harder to identify," Bones said. "I can provide disposal as well, if you'd like."
"No," George said in a newly savage tone. "I want to smash it to pieces myself."
Understandable.
Bones handed over the skull. George grimaced, but his hands didn't tremble as he placed it in a knapsack he'd had the foresight to bring. Then, he shoved the sack into the backseat. When he looked at Bones, tears filled his gaze.
"Tell me he suffered more than my daughter did."
Bones's jaw clenched. He couldn't. He'd read the coroner's report. Sergio had taken his time with Aurora. Bones would have done the same to Sergio, if circumstances had allowed.
"He died bleeding and begging," was all Bones could offer.
George made a sound between a sigh and a sob. "Good. I'm glad about that. I am. But I…I don't hurt any less. I thought…I thought maybe I would-?"
Bones had George Shayne's jaw in his grip before the other man could stiffen in shock. Then, he unleashed the power in his gaze. When that inhuman green light bathed George's face, the man's pulse skyrocketed.
"You're safe," Bones said, and George's heart rate went from frantic back to a normal rhythm. "You feel no guilt over hiring someone to kill that sod. Doing so saved other girls' lives. Soon, you won't hurt so much when you think of your daughter. Eventually, you'll remember only the good times, and this pain will heal."
"Heal," George repeated, hope threading through his tone.
"You won't remember this moment, either," Bones went on. "Or my face. All you'll remember is the man you hired wore a mask, dropped off the head, you paid him, and that was that."
"That was that," George echoed, caught in Bones's gaze.
Bones returned his eyes to normal, and let George go.
The other man blinked for a second, and then said, "No reason to keep you. You've done your part. Here's your payment."
Bones accepted the envelope that George held out to him, tucking it into his jacket.
George frowned. "You're not going to count it?"
A smile ghosted across Bones's lips. "No need."
He'd been handed so many envelopes like these that he knew it was the right amount just from its weight.
George let out an uncomfortable laugh. "Guess only a fool would shortchange someone like you."
True enough, and George Shayne was no fool.
Bones gave George a wordless nod, and then walked away.
When he was outside the car's headlights, he flew, letting the rush of air clear away any residual pity he had for George. He'd done what he could for him. Now, he was returning to Cat…and to hunting people even worse than Sergio.
***
Cat was still sitting on the back of the tractor trailer when he landed out of sight. As he came closer, he saw scratched-off bits of nail polish clinging to her legs like scarlet confetti. Her expression was pensive, and she was so deep in thought it took a second for her to notice that he'd returned.
"Oh," she said, and then hurried to scoot out of his way.
Still rattled from her earlier reaction to him, was she?
He hid a smile as he fetched his bike. When it was on the ground, he climbed on, and nodded at the space behind him.
"Hop on, Kitten, we're finished here."
She hesitated. "What about Sergio's car?"
"Ted's got a chop house. It's one of the ways he makes his living, didn't I mention that?"
"No, but what about the torso?" she said, clearly stalling.
"Ted again. Part of our deal is him planting them for me. Don't fret. Ted's a smart fellow, keeps his mouth shut."
And Ted would never betray him. Bones had taken him in when Ted was a teenager after Ted's father had thrown him out for being gay. Bones had no such bigotries, so Ted became one of his people, trading the occasional blood consumption for housing, an education, and silence about the vampire race. Now, Ted was married to a wonderful man, and had two successful businesses.
"Come on, Kitten," Bones said when she still hesitated.
With more reticence than her normal aversion to riding on his motorcycle, she climbed on behind him.
Two hours later, they were back in the woods near the cave. She'd held onto him during the long ride, but as soon as he came to a stop, she leapt off as if their prolonged contact had scalded her. Then, she hurried toward her truck.
"Off so soon?" Bones teased her. "The evening is young."
She did her best not to look at him as she said, "Maybe for you, but I'm tired. Go find yourself a nice neck to suck on."
He ignored the snark because she wished she could dismiss him that easily. Her breath hitched as he set the bike aside and came toward her.
She did look at him then, and an almost panicked expression flashed over her features. "I-I have to go."
Yet she didn't want to. She wanted to stay, if she'd let herself admit it. That's what frightened her so.
And he wanted to back her against her truck and kiss her until she couldn't remember why she'd fought so hard against her desire. But he didn't. He'd waited this long; he could wait a little longer. It was almost dawn, so she probably was tired. Besides, they had a date tomorrow, not that she knew it. 
He took a deliberate step backward, giving her more space.
"You should at least come inside and change," he said in a light tone. "If your mum sees you covered in blood, she might worry about you." Doubtful, but stranger things had happened. "Promise I won't peek," he added with an obvious wink.
Relief coated her smile, either at his new distance, or his feigned nonchalance. "I'll change at a gas station. When do I have to come back? This job is done, so I get a break, right?"
He bit back his snort. No, Kitten. I might let you run from me, but I'm not letting you hide.
"Sorry. Tomorrow night, you're on again. After that, I fly to Chicago to see my old friend Hennessey. With luck, I'll be back Thursday because on Friday, I have another job lined up–"
Her exasperated sigh cut him off. "Fine. Just remember I start college again next week, so I'll need some slack. We might have an arrangement, but I've waited too long already to finish my degree."
"Absolutely," he said with feigned enthusiasm. "But since dead girls pass no exams, you won't be neglecting your training. Don't fret, though," he added when her mouth opened mutinously. "We'll work it out. Speaking of jobs, here you go."
He drew out the envelope George Shayne had given him, selected a quarter of its contents, and held it out to her.
"Your share."
She stared at the cash as if it were a snake about to strike. "What's this?"
He snorted. "Fellow can't even give you money without you arguing? This is twenty-five percent of the bounty Sergio had on his head. It's yours for helping him lose his head. Reckon since I don't pay the IRS, I may as well give their cut to you," he added to ward off her protest. "Death and taxes. They go hand in hand."
He'd have given her all the money if he thought she'd accept it, but she was too suspicious for that. She already looked as if she'd refuse, and it was a paltry twelve thousand. 
 "Um…thanks," she finally said, and took the cash.
"You earned it," he reminded her. This wasn't a favor. It was the literal least she'd allow him to do.
She still seemed stunned, but she was smiling now. The sight was worth more than all the money he'd ever earned.
"You just got a big chunk of change yourself, are you finally moving out of the cave?"
He laughed. "Is that why you think I stay there? Due to lack of funds?"
"Why else?" she said, exasperated. "You have to pirate electricity, and you shower using ice cold river water. I didn't think you did that just because you liked seeing your parts shrink!"
Now his laughter held a wicked undertone. "Concerned for my dangly parts, are you? They're fine, I assure you. 'Course, if you need proof, you could always—"
"Don't even think about it," she interrupted.
"Too late for that," he assured her, voice deepening as he indulged in several explicit thoughts of that very nature.
She looked away, her color rising, but from the faster pulse beating in her lovely neck, she wasn't offended. At all.
Oh, how he wanted to lick that pulse from her neck all the way to where it throbbed between her legs. The thought made him hard without his intentionally sending blood to his cock.
This was the very last night he let her run from what she felt for him.
"Primarily, I stay at the cave because it's safer," he said to answer her original question. It helped redirect his thoughts, too. "I can hear you coming from a mile away with the surrounding woods. I also know the cave like the back of my hand. No one can ambush me there without my turning it around on them. Besides, it was given to me by a mate, so I check in on it when I'm in Ohio to make sure all's well, like I promised."
Her brows went up. "How do you give someone a cave?"
Memories rose. It wasn't far from this spot that he'd last seen Tanacharisson, his resolute expression clear despite his face being covered in battle paint.
"Used to be an occasional winter resident of the Mingos. One of them, Tanacharisson, refused to leave after the Indian Removal Act forced his people from their lands. After seeing his people and culture destroyed, Tanacharisson went off on a suicide mission against Fort Meigs. Before he did, he asked me to look out for the cave since some of his ancestor's bones are buried in the back, and he didn't want the whites desecrating them."
Her eyes misted over. "How terrible."
Many things were terrible back then. They weren't perfect now. Far from it, but some of the worst injustices had ceased.
"It was his choice," Bones said softly. "He had nothing left except how he died, and the Mingoes were very proud. To him, this was a death worthy of the legacy of his people."
"Maybe," she said in an equally soft voice. "But when death is all you have left, it's sad no matter what."
Yes. And infuriating, and unjust, but he hadn't been able to help Tanacharisson or his people. Vampires had few laws, but one of them was a strict "no interference" policy when it came to letting humans run their societies. Sure, a vampire could take out a few terrible humans without breaking that "no interference" law, but attack a human system their society was based on, and the Law Guardians would slaughter you. The secrecy of the race came first for Law Guardians. No exceptions.
"It's late, Bones," Cat said, dragging his thoughts back to her. "I'm leaving."
He let her get into her truck before he came over and touched her arm. There was one more item he wanted to address before she left.
"Kitten, about what you told me earlier…you need to know that it wasn't your fault. A rotten bloke like that would've done the same to any girl, and no doubt has both before and since you."
She'd stiffened when she realized what he meant. By the time he was finished, her face was set in sharp, pained lines.
"Are you speaking from experience?"
As soon as she said it, shame flitted over her features. She hadn't meant that, and she knew she'd gone too far.
Bones dropped his hand and stepped away. "I've never treated any woman that way, and most especially not a virgin. You don't have to be human to have such behavior be beneath you."
She stared at him, her expression changing from regret to confusion before finally, a look of longing crossed her face. She wanted to believe him, but her experiences with both vampire and human men made that difficult.
I'm not them, he silently promised her. And I'll prove it.
"Go home, Kitten," he said. "I'll see you tomorrow night."
With another look of both longing and confusion, she left.
***
I hope you enjoyed the new chapter! Once again, check back on Fridays all this month for more new reading, plus more contests like this one:
ONE WINNER will receive a $50 Amazon egift card. To enter for your chance to win, please follow the rules below.
1. Send an email to jeanieneprizes AT gmail DOT com (obviously replace the "AT" with an "@" and the "DOT" with a "." in your email.)
2. Make sure to include your name and the email address you want to be contacted at if you win (if it's not the email you're sending your entry from.)
3. You can only enter ONCE. Duplicate entries will be deleted.
4. Contest starts NOW and ends Friday, December 17th at 12pm Eastern time. Winner will be announced on my blog the same day. This contest is only open to US readers, but don't worry, international readers, I'll have chances for you to win prizes soon.
Good luck, everyone!