In October, I told you that I'd soon announce what was next, and I'd have a holiday surprise for you, too. Well, I'm late posting this, but I'm finally here to deliver on those promises. Without further ado, my next novel will be THE OTHER HALF OF THE GRAVE, a new look at the origin story of Cat and Bones told through Bones's eyes.
Ever wondered what Bones was thinking and feeling when he and Cat first met? Or how their story might differ if he were the one telling it?
Coming April 26th, 2022, THE OTHER HALF OF THE GRAVE answers all those questions and more! Relive the beginning of Cat and Bones's bestselling love story through Bones's point of view, which shows a darker, sexier take on their early days, as well as a deeper dive into parts of the vampire world that Cat didn't see when their story was told only through her eyes in HALFWAY TO THE GRAVE.
Preorder THE OTHER HALF OF THE GRAVE at #Ad Amazon, B&N, Apple Books, Kobo, or your favorite retailer.
***
If you're not familiar with how THE OTHER HALF OF THE GRAVE started, I originally published it as free, partial serial back in 2019, intending it as only a fun glimpse of some early chapters from Bones's point of view. I never intended to turn it into an entire book, but reader response, plus my own enjoyment, convinced me to finally finish it.
Will this be out in audio, too?
Yes. We are planning on a simultaneous audio release along with the ebook on April 26th, 2022. To match how this story is told exclusively through Bones' point of view (versus how all the Night Huntress series was told exclusively through Cat's point of view), we are changing audio narrators to an as-yet-unannounced male narrator. More soon on who.
Why did you start writing it to begin with?
Long version here. Short version: In September 2019, I re-wrote the first time Cat and Bones met from Bones's point of view and posted it in two chapters on my blog. Readers overwhelmingly asked for more, so I took a month's break from deadlines and wrote 30K more. Then, I had other contracted novels to finish, so I stopped there. Now that I'm caught up on my deadlines, I finished the story, and I'm so excited to share it with you.
Will you be posting more free chapters before you release THE OTHER HALF OF THE GRAVE?
Yes! Scroll down on this page for the first new chapter, AND to thank you for your patience, I'm adding a holiday giveaway on this and each new chapter posted during the month of December (hint: after this post, you'll want to check my blog on Fridays, starting this Friday, December 17th :))
Where can I find the previous, not-yet-revised chapters to read for free?
For now, they're below, but once the book goes through edits and revisions, I'll be taking them down because there will be changes from what's there now compared to what will be in the final version. Also, I updated the technology to today's time, and made a few other changes as well, such as Cat having a cell phone. Back when I originally wrote Halfway to the Grave, it would have been unusual, but not unheard of, for Cat not to have a cell phone. Now, however, I think new readers would find that less believable than her being half-vampire.
But I wanted you to write another Vlad and Leila novel! Will you ever do that?
Actually…I might. When I said months ago that Vlad and Bones were in a (metaphorical) contest over who would get the next story, well, Bones won, and Vlad is NOT happy about that. You might even say that Vlad has been dangling new story ideas in my head ever since because he's firmly convinced that he is far more deserving of an additional story than Bones is (those two, right?) So, there might be another Night Prince novel in the future. I'll let you know 🙂
ETA: The previous unrevised, unedited chapters have been taken down. You can read an extended excerpt from THE OTHER HALF OF THE GRAVE here. (link: https://www.jeanienefrost.com/books/the-other-half-of-the-grave/)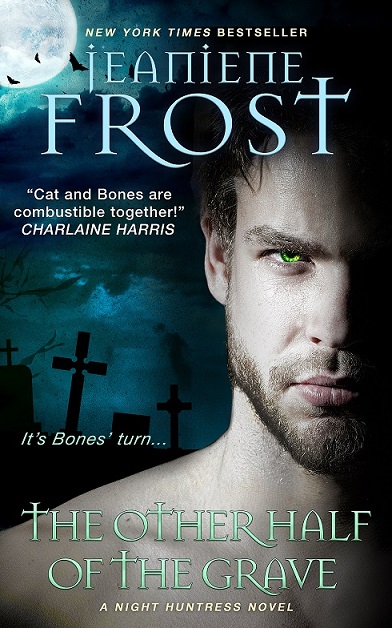 ETA: The previous unrevised, unedited chapters have been taken down. You can read an extended excerpt from THE OTHER HALF OF THE GRAVE here. (link: https://www.jeanienefrost.com/books/the-other-half-of-the-grave/)
I hope you enjoyed the new chapter! Once again, check back on Fridays all this month for more new reading, plus more contests like this one:
ONE WINNER will receive a $50 Amazon egift card. To enter for your chance to win, please follow the rules below.
1. Send an email to jeanieneprizes AT gmail DOT com (obviously replace the "AT" with an "@" and the "DOT" with a "." in your email.)
2. Make sure to include your name and the email address you want to be contacted at if you win (if it's not the email you're sending your entry from.)
3. You can only enter ONCE. Duplicate entries will be deleted.
4. Contest starts NOW and ends Friday, December 17th at 12pm Eastern time. Winner will be announced on my blog the same day. This contest is only open to US readers, but don't worry, international readers, I'll have chances for you to win prizes soon.
Good luck, everyone!