2022 is here, and with it, new contest winners! As a reminder, there were three prizes up for grabs in last week's contest: a "book of your choice up to $25," a $50 Amazon egift card, and a $100 Amazon egift card. The contest ended at midnight last night, and as usual, all winners were chosen at random this morning. For privacy reasons, only the winners' first name, last initial, and country (if applicable) will be publicly displayed. Winners will also be contacted via email, so check your email address if you see your name and initial below.
First up is the "book of your choice up to $25 in value" winner, who is…
Karen M
Next is the winner of the $50 Amazon egift card, who is…
Vera M
Finally, the winner of the $100 Amazon egift card is…
Brittany D
Congrats Karen, Vera, and Brittany! Please check your emails for details on how to claim your prizes. 
Now, if you've been on my blog recently, you'll know I've been posting new chapters from THE OTHER HALF OF THE GRAVE, which is Bones's side of the story on how he and Cat met and fell in love (shameless promo reminder that THE OTHER HALF OF THE GRAVE releases April 26th, 2022 in ebook, audio, and print, the first twenty chapters are available to read for free HERE, and you can get yours at #Ad Amazon, B&N, Apple Books, Kobo, or your favorite retailer.)
This week, I will not be posting a new chapter from THE OTHER HALF OF THE GRAVE because I'm busy with other stuff, but I will be posting more snippets this month, so stay tuned. Also, if you missed my post the other day, the ebook and print single of A GRAVE GIRLS GETAWAY is finally here. Night Huntress fans, sink your teeth into a NEW story featuring Cat, Bones, Denise, Katie, and more (Ashael fans, he pops up in this story, too)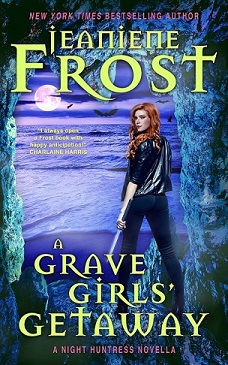 Cat and Denise intend to spend the week doing nothing more than dancing, drinking, and sightseeing. Unfortunately, they stumble across a deadly summer solstice ritual performed by powerful witches who have no intention of letting their uninvited guests live to reveal what they saw. Will this girls-only getaway turn out to be the last vacation – ever! – for Cat and Denise? 
Get yours at #Ad Amazon,  Nook, Kobo, Apple Books, or your favorite book retailer. Read the first three chapters HERE.
Finally, I leave you with this pic. Loki (on the left) rarely lets the new Husky pup cuddle him, but Leia managed to catch Loki when he was obviously too comfortable to move. As you can see, Leia took full advantage, and from the glare Loki is giving me, he doesn't appreciate me immortalizing this moment, heh.