Before we get to the subject line, a reminder that as of March 1st, I am taking down the 22 chapters currently posted from THE OTHER HALF OF THE GRAVE. So, if you haven't read them yet, you only have a few more days. I will post a much smaller excerpt of those chapters afterward, plus I'll post some new excerpts from the book between now and its release on April 26h, AND I'll have an audio excerpt from the new male British narrator, AND the book trailer, so there's definitely more to come as far as new stuff. But, the bulk of those chapters are coming down, so this is your head's up.
Now, to a topic even more near and dear to my heart than my upcoming books–my dogs. Or, in this case, one of my dogs, Leia, seen here with her favorite person in the world, my husband: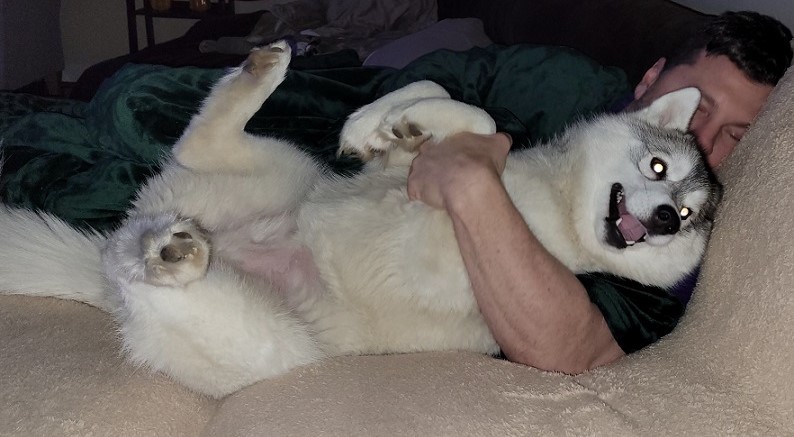 Now, I've had dogs my whole life, but I'd never had a Husky before Leia. The experience has been…unique. I'll explain. Like many pet owners, I've often said things like "Who's the best doggie?" and "Who's the prettiest girl?" and "Who does Mommy love so much?" to my pets, but with Leia, I've said things that I've NEVER had to say before, let alone say several times. Below is an example:
Get out of the dishwasher.
Ha, you can't open that door–Mommy locked it this time!
Honey, stop her! She's got a knife AGAIN.
What did you destroy?
Teeth are for toys, not fingers.
Yes, I know where the Treat Drawer is. You don't have to keep showing me.
Don't eat the refrigerator!
Get down from that table.
Don't eat your leash…oh, dammit, you did it again.
The recycling bin is NOT a toy box.
What's in your mouth? What's in your mouth? WHAT'S IN YOUR MOUTH?!
*grins* It's a damn good thing that Leia is as sweet as she is naughty, or hubby and I would be bonkers by now. Here is another picture of Leia, no doubt trying to convince you that no one with a face this cute could do such dastardly things: