As promised, here is the cover for THE OTHER HALF OF THE GRAVE, a new novel in the Night Huntress series, but with a twist: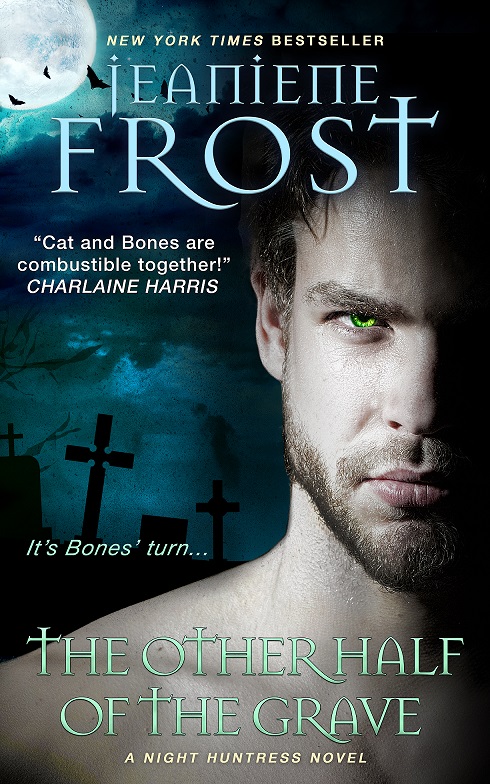 You've heard Cat's side of the story. Now, it's Bones' turn…
From the New York Times bestselling author of the Night Huntress series, a thrilling new look at the iconic origin story of Cat and Bones, as experienced by Bones…from the other half of the grave.

There are two sides to every story–and the sizzling British alpha vampire, Bones, has a lot to say…
Ever wondered what Bones was thinking and feeling when he and half vampire Cat Crawfield first met? Or how their story might differ if he were the one telling it? Now, relive the beginning of Cat and Bones' bestselling love story through Bones' point of view, which reveals a darker, sexier take on their early days, as well as a deeper dive into Bones' past, the vampire world, and other things that Cat didn't see when their story was told only through her eyes in Halfway to the Grave.

Cat had her say. It's Bones' turn.
Preorder THE OTHER HALF OF THE GRAVE at #Ad Amazon, B&N, Apple Books, Kobo, or your favorite retailer. Audio links and print links coming soon.
Read the first 21 chapters HERE.
As mentioned yesterday, no, this isn't really how I picture Bones because no one on tv, movies, or in real life looks like Bones does in my head. However, this guy had the vibe I was looking for, and his stare practically screams, "Ready or not, here I come." That was Bones to me, especially in this story when he is so determined to win Cat's love, and wow, even I learned a lot more about how determined Bones was to win Cat while writing this book.
I'm so happy with how the cover turned out, and now, I finally have something to point to for an example of what a vampire's eyes look like when they're lit up with that inhuman glow!
To celebrate, I'm giving away FOUR prizes to FOUR winners. Here they are:
THREE WINNERS will receive any book of their choice (up to $25 in price.) This part of the contest is open to international readers*. If you're a US resident and you win, you can pick either a paperback or an ebook. If you're an international reader and you win, you can pick a paperback of your choice (up to $25 in price) via The Book Depository. *International readers, please first make sure that The Book Depository ships to your country. List of countries HERE.
Here's the second prize:
ONE WINNER will receive a $50 Amazon egift card. This part of the contest is open to US readers only.
To enter for your chance to win, please follow the rules below.
1. Send an email to jeanieneprizes AT gmail DOT com (obviously replace the "AT" with an "@" and the "DOT" with a "." in your email.)
2. Make sure to include your name, the email address you want to be contacted at if you win (if it's not the email you're sending your entry from) AND YOUR COUNTRY so I know which prize you're eligible for.
3. You can only enter ONCE. Duplicate entries will be deleted.
4. Contest starts NOW and ends Thursday, February 17th at 11:59pm Eastern time. Winners will be announced on my blog the next day. Good luck!