The only thing that makes me happier than sales on my own books is sales on friends' books, and in this post, I've got both! First up is THE WICKED AND THE DEAD, book one in New York Times bestselling author Melissa Marr's new Faery Bargains series, and it's $2.49 in ebook TODAY ONLY as a Kindle Daily Deal.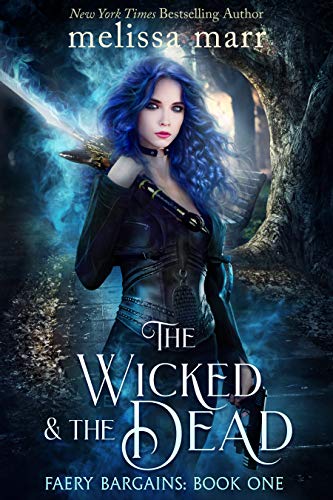 Enter a new faery world written by the author of the internationally bestselling Wicked Lovely series.
Half witch, half killer, wholly unprepared for a Faery Bargain…Geneviève Crowe makes her living beheading the dead in near-future New Orleans. But now, her magic's gone sideways, and the only person strong enough to help her is the one man who could tempt her to think about picket fences: Eli Stonecroft, a faery bar-owner in New Orleans.
When human businessmen start turning up as draugar, both the queen of the again-walkers and the wealthy son of one of the victims, hire Geneviève to figure it out. She works to keep her magic in check, the dead from crawling out of their graves, and enough money for a future that might be a lot longer than she'd like.
Neither her heart nor her life are safe now that she's juggling a faery, murder, and magic.
Get THE WICKED AND THE DEAD for only $2.49 here.
"Bestseller Marr (the Wicked Lovely series) gives urban fantasy and paranormal romance readers a treat with her entertaining Faery Bargains series launch… Marr ensconces beloved genre tropes in refreshing worldbuilding, offering a sly, never self-serious take on faery bargains and the walking dead…. Readers will be hooked." Publishers Weekly
Next up is CURSED LUCK, book one in New York Times bestselling author Kelley Armstrong Cursed Luck series, and it's only $3.49 in ebook during March as a Kindle Monthly Deal.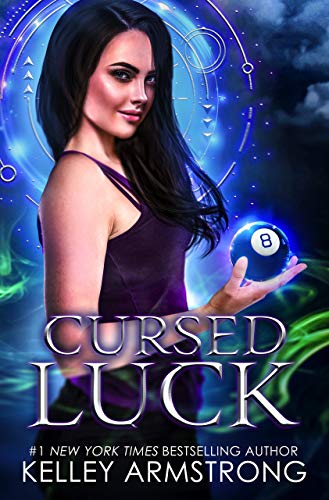 Struggling curse weaver Kennedy Bennett's motto is Carpe Diem. Wealthy luck worker Aiden Connolly has never leapt without looking—usually twice. Forced together on an adventure, they're going to drive each other crazy…in all the best ways.
Kennedy Bennett comes from a long line of curse weavers. For centuries, her family has plied their trade in Unstable, Massachusetts, an unconventional small town that's welcomed paranormal practitioners since the dawn of spiritualism. Kennedy has recently struck out on her own, opening an antiques shop in Boston, where her speciality is uncursing and reselling hexed objects. Then Aiden Connolly walks into her life with an offer she really should refuse.
The scion of a wealthy family of luck workers, Aiden has a scheme to get his hands on the most famous cursed object of all: the mythical Necklace of Harmonia. He's not the only one after the necklace, though. And he's not the only one looking for a curse weaver to fix it. Kennedy's sisters are kidnapped, and she finds herself plunged into the underbelly of the magical world where even Aiden is in over his head.
I've been a fan of Kelley's writing ever since I picked up BITTEN over a decade ago, and Kelley's only gotten better since. You'll love this paranormal romp filled with art heists, cursed objects, thieves, and Greek gods!
"One of my favorite elements of this story was how mythology was included seamlessly into the plot in such a cool and interesting way!" Under The Covers book blog.
Get CURSED LUCK for only $3.49 here.
And finally, if you missed it in my prior post, HEX ON THE BEACH, an anthology with me and both these talented ladies, is now on sale as a Kindle Monthly Deal for only $3.49.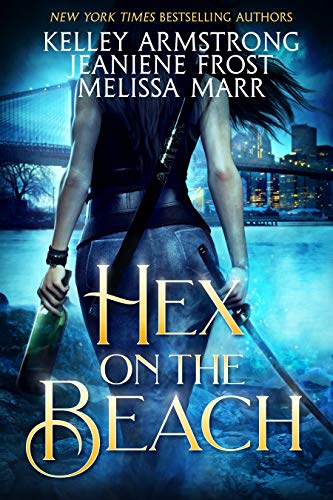 Girls Night Out has never been so much fun–but what are they going todo with all these bodies? New York Times and USA Today Bestselling Authors Kelley Armstrong, Jeaniene Frost, and Melissa Marr deliver a sexy summer read with this novel-length anthology containing three all-new stories from their Cursed Luck, Night Huntress, and Faery Bargains worlds. Kennedy, Cat, and Gen are just trying to enjoy their respective getaways, but when immortals, vampires, and witches come out to play, things are bound to go awry. Let the supernatural hijinks begin!
"Hex on the Beach is by far the best anthology I've read this summer. I highly recommend it to anyone looking for a fun beach/poolside read." The Book Whisperers
"A hoot with a wide array of baddies, and a superb collection of paranormal female dynamos!" Fresh Fiction 
Get HEX ON THE BEACH for only $3.49 here.