THE OTHER HALF OF THE GRAVE, Bones' side of the story, is finally here! This book has been a long time coming, and I can't thank you enough, readers, for taking this journey with me. I hope you love seeing the beginning of Cat and Bones' story through Bones' eyes!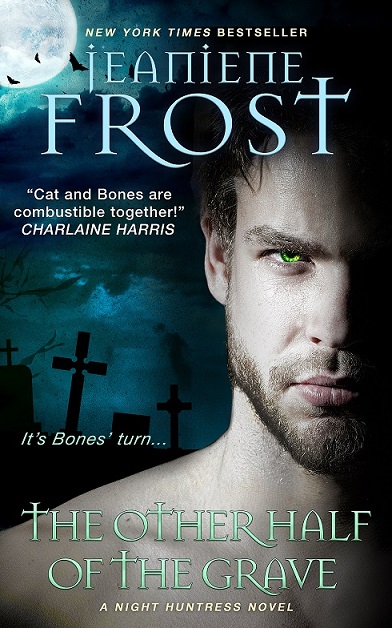 Ever wondered what Bones was thinking and feeling when he and half vampire Cat Crawfield first met? Or how their story might differ if he were the one telling it? Now, relive the beginning of Cat and Bones' bestselling love story through Bones' point of view, which reveals a darker, sexier take on their early days, as well as a deeper dive into Bones' past, the vampire world, and other things that Cat didn't see when their story was told only through her eyes in Halfway to the Grave.

Cat had her say. It's Bones' turn.
"I love this new look at a much-loved story and I might even love Bones a bit more than I did before reading this."–Carole's Random Life
"As a longtime fan of the Cat and Bones series, The Other Half of the Grave adds more to the love story that is Cat and Bones. It made me want to re-read the entire series again."–Red Hot & Blue Reads
"Even if you've never read any of the other books in Frost's sexy, action-packed series (think Buffy the Vampire Slayer for Anne Rice fans), this darker, even sexier reboot is a perfect starting point."–Apple Books. Voted one the "Best Books of April" on Apple
Read the first 12 chapters here.
Get yours in ebook, paperback, or audio at #Ad Amazon, B&N, Apple Books, Kobo, Bookstop, Indiebound, or your favorite retailer.
*As an Amazon Associate I earn from qualifying purchases.
ETA: Yes, there will be another Bones pov book! Learn more here: https://www.jeanienefrost.com/2022/05/thank-you-whats-next-and-more/
Now, to the playlist. As many of you know, listening to the same set of songs while I write keeps me focused on that particular story. So, here's what I listened to while writing THE OTHER HALF OF THE GRAVE. These songs are all over the place when it comes to age and type, but that shouldn't be a surprise. Bones is nothing if not versatile, and apparently, I was channeling some of that versatility when I picked the playlist.
Usual disclaimer: Music tastes are as personal as reading tastes, so if you don't like the bands/songs, no problem! Just please don't tell me that I shouldn't like them. The layout is alphabetic starting with the artists' first name, and then the song name, but I didn't listen in alphabetical order because I am not that organized. My listening order depended on my mood and the scene type.
Adam Lambert: Whataya Want From Me
All Time Low: Monsters
Beyonce: Halo
Black Coffee: Your Eyes
Chaka Khan: Ain't Nobody
Cold War Kids: First
Daya: Safe
Dean Lewis: Waves
Gavin Rossdale: Love Remains The Same
Imagine Dragons: Shots
Iryna Slokov: Smells Like Teen Spirit (from Black Widow)
Kehlani: Gangsta
Kelly Clarkson: I Dare You
Kings of Leon: The Bandit, Time in Disguise
Kita Klane: Fingerprints
Lewis Capaldi: Mercy
Lifehouse: Don't Wake Me When It's Over, Whatever It Takes
Machine Gun Kelly: My Ex's Best Friend
Matt Nathanson: Run, Come On Get Higher
Metallica (Live with the SFSO): Hero of the Day
Morgxn: A New Way
One Republic: Rescue Me
Rob Zombie: Dragula
Sia: Beautiful Things Can Happen, Unstoppable
Sylvan Esso: Die Young
Tate McRae: Vicious
The Goo Goo Dolls: Let Love In, Lost, Autumn Leaves
The Head and the Heart: All We Ever Knew
Tina Turner: The Best
Zara Larson: Wow