A huge thank-you, readers, because THE OTHER HALF OF THE GRAVE hit #51 on the USA Today bestseller list, and #8 on the Wall Street Journal Ebook Fiction bestseller list!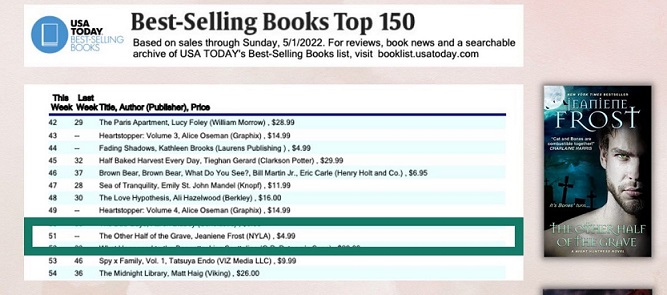 This was a self-published book, so it wasn't on the shelves in any book stores, plus I didn't hire a publicist or marketing team, and I only bought two ad slots. To say I had no expectation of it hitting any bestseller lists is putting it mildly. In fact, I'm going to tell some of the backstory behind this book below, but to wrap up this part…wow. Just WOW. Readers, you showed up for this book, and you showed up BIG. I love you all!
Now, ever since I announced THE OTHER HALF OF THE GRAVE, I've been asked the same question:
Will you be doing the second Night Huntress book from Bones's point of view?
The answer is YES, I will be retelling ONE FOOT IN THE GRAVE from Bones's point of view!
I'm so excited to do this, but let's face it, I'm probably not prepared to see Chapter 32 through Bones's eyes. I might have to write that chapter while drunk to kill my inhibitions, lol. Still, I'm diving in because Bones has been pestering me to write more of his story, yet ultimately it was you, readers, who made it possible. Here's why, and warning: you should skip the below if you don't want a bunch of TMI about me, the publishing world, and other behind-the-scenes stuff.
Still here? Then settle in and get comfy.
Many of you know that I started writing Bones's point of view just for fun, and posted the first two chapters on my blog in the fall of 2019. I loved writing those chapters so much that I wrote a couple more, and then a couple more, and a couple more. In six weeks, I had 30k words on Bones's story when I was supposed to be writing Ian and Veritas's book. Since I was so far into it, I asked my publisher if I could swap out Bones's book for Ian's. (Yes, I was still going to write the third Night Rebel book, but I would have preferred to write Bones's first and finish Ian and Veritas's story afterward.)
The answer was no. So, I started writing WICKED ALL NIGHT, and posted those 30k words of Bones's story as a free serial on my blog. I finished WICKED ALL NIGHT in May of 2020, right when the realities of the pandemic were really setting in. Then, in August of 2020, I lost my beloved dog of 16+ years, and that hit me harder than I am still willing to admit. So, grief, lockdown, horror at the pandemic, and fear of getting Covid ended up freezing me, creatively speaking. I couldn't write. I could barely concentrate enough to read, and I certainly wasn't going to talk about it in public because (1) people had lost entire families to this pandemic, not to mention jobs, homes, and more, so my writing/reading loss seemed very small by comparison, and (2) I was so terrified the loss would be permanent that I couldn't bear to speak of it to anyone except my husband and close friends.
Fast forward to early 2021. I'd agreed to be part of an anthology with fellow authors Melissa Marr and Kelley Armstrong, and now, I had to write my novella when I didn't even know if I could. It took over a month of stops-and-starts in March just to get the first chapter down. Then, it probably took the entire month of April to get to chapter three, but…being back with Cat, Bones, and the gang started thawing my creative ice. I was able to finish the story in the nick of time at the beginning of June to make the publication deadline. It might have only been a 25k word novella, but it was also proof that I could still do the job I loved, so my relief was immeasurable.
I moved out of state over the summer, to a place that required more fixing up than we'd realized when we bought it, so it wasn't until August of 2021 that I started thinking, what next? On a whim, I pulled up the unfinished Bones pov and started reading it. Then, I started tweaking what I'd written, and then, I started writing more. It felt like Bones had been waiting for me this whole time, and all I wanted to do was keep writing his side of the story. So, I called my agent and said, paraphrase, "This is what I'm doing next. See if anyone wants to buy it."
I'll sum up the next two months of submissions with one word: No.
I can't blame the publishers. Paranormal romances are hardly tearing up the charts these days, and this technically wasn't a new story. It was a retelling of a 15-year-old book that I hadn't done a new novel on in 8 years (no, they don't count novellas), plus I'd had the first 25% of it available to read on my website for free for 2 years. I mean, this book had so much baggage, it needed its own luggage cart.
Logic said that I should pass on it, too, especially since I got offers to write something else. But, writing this book felt like hanging out with very missed, very dear friends. It made me happy, and if the pandemic's taught us anything, it's that life can be short, so if you get the chance to do what you makes you happy, take it.
I took it, and told my husband, "We might be breaking the piggy bank because it's going to take me months to finish this book, and then, it's going to cost several thousand dollars to have it professionally edited, copyedited, proofread, and audio recorded, and we might not make the cost back since I don't know if readers even want this." He might have been thinking, "Fuuuuuuck…." but he just smiled and said that writing Bones's story was a great idea. (Wonder why I've dedicated so many books to him? Wonder no more.)
Fast forward to this past Wednesday, when I awaited my first week's sales numbers. These would show me whether or not I'd make a big mistake, financially speaking. Creatively, it had been a wonderful gift to write THE OTHER HALF OF THE GRAVE, but I couldn't afford to give myself such a lavish gift again if the book had bombed. That's why I didn't answer all the times I was asked if I'd be writing more Bones pov. I also didn't want readers to feel like I was pressuring them into buying THE OTHER HALF OF THE GRAVE by saying "No second book unless this one does well!" so…I just ignored the "More?" question until I knew if I could write more.
Thanks to your support, readers, the answer is yes. You showed up for Bones, and now, I get to bring him back to you with his side of the next book in the series. I'm so excited because I love seeing Cat, their friends, their enemies, and everything else in the Night Huntress world through Bones's eyes. It's truly been a joy, and I hope it's brought you joy, too.
I don't have a release date or title yet since I hadn't allowed myself to start writing it until I found out how this book did, but now, believe me, I'll get cracking! Also, I do NOT have plans to redo the entire series from Bones's point of view. Only the second book at this time (hey, Vlad is screaming at all this attention Bones is getting, lol.) So, I'll have more updates on that soon, and once again, thank you! You're the best!