I'm way late announcing this (it's been a rough month, people), but Chapters Interactive Stories has released the game edition of SHADES OF WICKED, book one in the Night Rebel series. Look at the amazing artwork for this!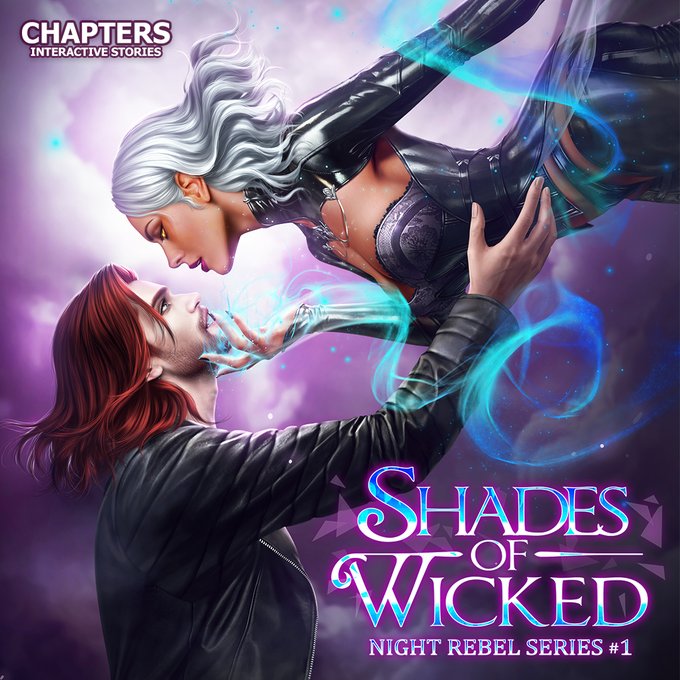 What is Chapters, some of you might be wondering? It's an interactive role-playing game based on on books, and you play it on your cell phone. In the SHADES OF WICKED version, you would role play as Veritas, the heroine, and you'd start out by customizing what you want Veritas to look like. You also get to customize Ian's looks, AND you get to choose what Veritas does based on several multiple-choice options. This allows you to tweak the story according to how you prefer Veritas to act, so everyone who's ever thought "Why doesn't Veritas do X instead?!" can now get the chance to make her, heh. Chapters also added a few cool new scenes and little plot diversions that really allow you to make the story your own. Think "choose your own adventure" but in digital form. Also–and this one Ian would TOTALLY approve of–you can add additional spicy scenes if you want to turn up the heat in the story.
You can download the Chapters game App for your mobile phone at one of these links:
Google Play (Android): https://play.google.com/store/apps/details?id=com.mars.avgchapters
Apple (iPhone, iPad) https://apps.apple.com/us/app/chapters-interactive-stories/id1277029359
Use the Search bar and enter "SHADES OF WICKED," then tap on it, and get to the fun! Chapters will have the entire Night Rebel series available on its site, so look for WICKED BITE soon, and it also has the entire Night Prince series (Vlad and Leila) available now. Plus, Chapters has lots of different stories in romance, fantasy, sci-fi, YA, drama, and more.
So, if you need something to help take your mind off things, try role playing as a character in an interactive game version of a book! Believe me, it beats watching the news. Oh, but be advised: there's sound in this game, so turn your phone on mute if you don't want to get caught playing while you're at work.