Happy release day to bff and awesome author Ilona Andrews for RUBY FEVER! I was lucky enough to get an early look at this book and let me tell you, it's amazing. Now, since Ilona and I are friends, you might think I'm biased, so here are some other opinions:
"The action-packed and imaginative second trilogy of the Hidden Legacy series ends with a spectacular, satisfying finish." Kirkus, starred review
"Mystery and violence and sarcasm and desire in a Houston not quite like our own…the more world-shaking magic we see, the more the difference between a hero and a villain gets pared down to a single, swordlike question: How do you choose to wield your power — attack and accumulate, or defend and redeem?" The New York Times review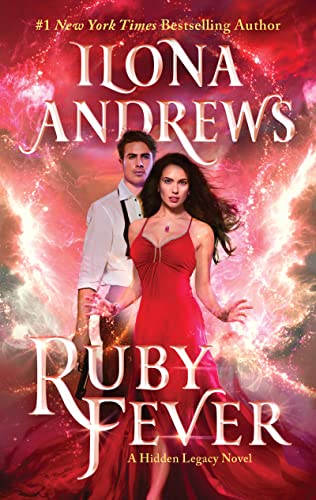 #1 New York Times bestselling author Ilona Andrews is back with the newest book in the exciting Hidden Legacy series—the thrilling conclusion to her trilogy featuring fierce and beautiful Prime magic user Catalina Baylor.
An escaped spider, the unexpected arrival of an Imperial Russian Prince, the senseless assassination of a powerful figure, a shocking attack on the supposedly invincible Warden of Texas, Catalina's boss… And it's only Monday.
Within hours, the fate of Houston—not to mention the House of Baylor—now rests on Catalina, who will have to harness her powers as never before. But even with her fellow Prime and fiancé Alessandro Sagredo by her side, she may not be able to expose who's responsible before all hell really breaks loose.
Get yours: Amazon, B&N, Apple, Bookshop, Kobo, or your favorite retailer.
Read an except on Ilona's website here.
Ilona's online book tour for RUBY FEVER here.