BOTH FEET IN THE GRAVE, the second "Bones point of view" novel, finally has a cover!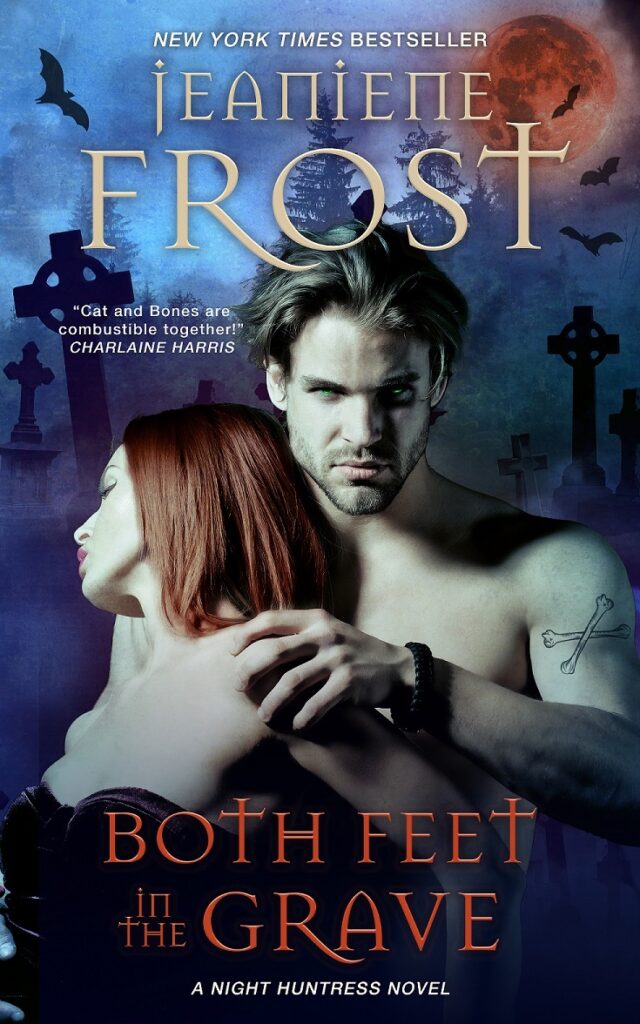 If you thought you learned more about the dangerous and sexy alpha vampire, Bones, in the USA Today bestselling scorcher, THE OTHER HALF OF THE GRAVE, you haven't seen anything yet…
Cat disappeared from Bones' life to protect him, but this Master vampire will keep his promise to find her.
Two hundred years of bounty hunting made Bones the best at what he does, yet it's still taken him four long years to find Cat, the half vampire now known as the "Red Reaper." There's a price on Cat's head, and not even her job as a secret government agent can save her. Only Bones can. But has time hardened Bones too much to love again? Or will his passion for Cat burn through every obstacle–alive, undead, or otherwise–between them?
From the New York Times bestselling author of the Night Huntress series comes a fresh, new perspective on the origin saga of Cat and Bones, in Bones's own words…
Releasing April 18th, 2023. Preorder yours: #Ad Amazon,* B&N, Apple Books, and Kobo.
Right now, only the ebook is up for preorder, but BOTH FEET will be available in print and audio, too. Those links just take a little longer. Speaking of audio, I will again be using Will Watt as the narrator since this story is told in Bones's "voice" versus Cat's.
And, as I mentioned with the cover for THE OTHER HALF OF THE GRAVE, no, this isn't really how I picture Bones because no one on tv, movies, or in real life looks like Bones does in my head. However, this guy had the "vibe" I was looking for, which is why I used him for both covers. Also, now I can FINALLY point to an image and say "This is what Bones's tattoo looks like!" Yes, I cheated a little by putting it on his outer left arm versus his inner arm, but that was the only way I could show it to you.
And now, to the contest portion of the post! Normally, I do a small contest when I reveal a book cover, but this time, I'm throwing a large one because October 30th will be the 15 year anniversary of my first book being published. Just WOW. I can't believe it's been that long, and I also can't believe I'm lucky enough to still be writing. To say it's been a dream come true doesn't even begin to cover it.
So, to celebrate 15 amazing years, I'm giving away 15 prizes! Here they are:
9 WINNERS will receive any book of their choice (up to $20 in price.) This part of the contest is open to international readers. If you're a US resident and you win, you can pick either a paperback or an ebook. If you're an international reader and you win, you can pick a paperback of your choice (up to $20 in price) via The Book Depository. International readers, please first make sure that The Book Depository ships to your country. List of countries HERE.
And…
5 WINNERS will receive a $20 Amazon egift card. Due to egift card restrictions, this part of the contest is open to US readers only.
And the grand prize is….
1 WINNER will receive a $500 Amazon egift card. Yes, I said five hundred dollars. I'm going big because this is a big anniversary. Once again, due to egift card restrictions, this part of the contest is open to US readers only.
To enter for your chance to win, please follow the rules below.
1. Send an email to  jfrostcontest AT gmail DOT com  (obviously replace the "AT" with an "@" and the "DOT" with a "." in your email.)
2. Make sure to include your name, the email address you want to be contacted at if you win (if it's not the email you're sending your entry from) AND YOUR COUNTRY so I know which prize you're eligible for.
3. You can only enter ONCE. Duplicate entries will be deleted.
4. Contest starts NOW and ends Sunday, October 30th at 11:59pm Eastern time. Winners will be announced on my blog the next day.
Good luck, and thank you for being a part of this very special anniversary!
*As an Amazon associate I earn from qualifying purchases through this link.