Hi, all! Sorry for the silence. I caught my first case of Covid back in November, and while it was mild, it still wasn't a good time. So, now I'm trying to play catch-up with work on top of the normal holiday business. But, complaints aside, I have good news! THE OTHER HALF OF THE GRAVE was selected as one of Apple's "Books We Love For Under $5" features, and for a very limited time, it's downpriced to only $2.99 in ebook. So, get "Bones's side of the story" for less than a cup of coffee at Apple Books here.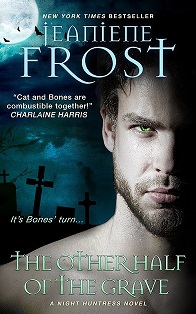 Also, several of you asked if I'd post the link to the live interview that I did with author Alyssa Day back in November. Here it is, and Alyssa is so funny! I don't think we were talking for ten minutes before she mentioned a "magic hoo-hah," lol. Thanks again to Meena from Ashland Library for hosting the chat, and for recording it, too!
Speaking of sales, nothing beats free, and bestie Melissa Marr's first novel in her sexy and hilarious Faery Bargains series, THE WICKED AND THE DEAD, is free for a limited time on Kindle. This is what I had to say about the book back when it released: "I loved The Wicked and The Dead! A sassy, ass-kicking heroine, a deliciously mysterious fae hero, and a wonderful mix of action and romance. Add that to Melissa's usual great world-building, and I'm already looking forward to book 2!" So, to read about vampire zombies, hot fae princes, and more FOR FREE on Kindle, go here.