Yesterday, I woke up at 4am with a banging migraine, so I took my meds and hoped I'd feel better later. I did, but my migraine meds (Ubrelvy, for anyone curious) have pros and cons. Pro: It keeps the migraine from turning into a can't-stop-throwing-up hellfest of pain. Con: the "blockers" also seem to block my brain from having a decent writing day, as I've learned from experience.
Since I knew the day would be shot for work productivity, and my local theater had a 30% discount for matinee tickets, I decided to see the movie BARBIE. Note that I had no desire to see this when it was first announced because of Reasons* I'll bore you with below, but a good friend had raved about this, and I didn't much feel like watching a 3 hour movie about the atomic bomb. So, I told hubby I wanted to see BARBIE, and he laughed because he knows all my Reasons*, but off to the theater we went.
Reasons*
I was always a contrary little girl, sometimes because of how I was wired, and sometimes just for the sake of being contrary. I was eight or nine when I became outraged at being told that pink was a "girl's" color while blue–which I preferred–was a "boy's" color.
Why? I asked.
Because that's the way it is, was the generalized response. (Yes, I'm dating myself with this exchange because color-coding children is–hopefully–not as much of a thing as it was decades ago, but I digress.)
Well, right then Little Jeaniene decided that she was not wearing pink anymore because how dare people say what color girls SHOULD wear? Granted, my mother still forced me to wear pink if a relative had gotten me pink clothes, but I made sure to tell my relatives that I didn't like the color, and why, usually to extended laughter. I was also given multiple Barbies as a child despite preferring Star Wars action figures, BB guns, and other things I was informed were for boys and not girls. I still remember my mother's scream when she saw that I took her nail polish and painted nipples onto my Barbies because, as I told her, if I HAD to play with them, then they'd be anatomically correct.
As I told you–contrary.
Fast-forward four decades. I still boycotted the color pink, and I still made my mother mutter "Where did I go wrong?" almost to her dying day because I did NOT grow to love all the things I was apparently supposed to love as a girl/woman. Furthermore, I was happy with my choices, something my very traditional mother was confused about even though she was proud of my accomplishments.
So, now you can better imagine that when I first saw the pink-bedecked trailer for BARBIE, my initial reaction was "Oh, hell no!"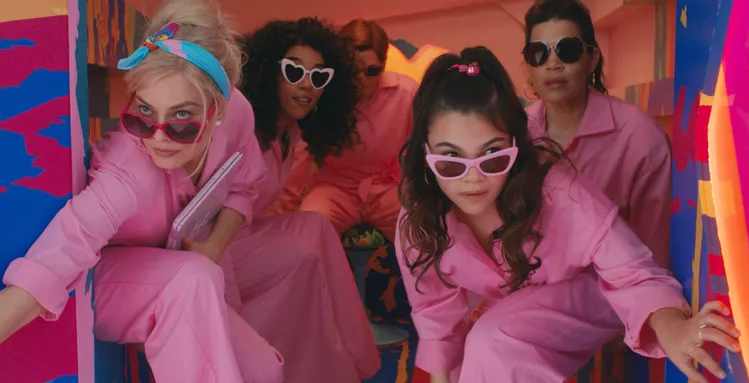 But again, my dear friend had raved about it, and I wasn't working anyway, so I went, fully expecting to roll my eyes through a lot of the movie.
Wow, was I wrong, to the point where I wish this movie would have existed when I was a little girl. Back then, Barbie wasn't just a toy that girls were expected to play with. It was also a standard of beauty that teens and women were socially expected to imitate (and socially criticized when they fell short of it.) Unreasonable beauty standards are still very much a thing today, as are gender expectations, but the movie BARBIE eats those stereotypes up and spits them out with wit, sly humor, slapstick humor, and an iconic monologue by actress America Ferrera that so encapsulates what women deal with, I was nearly in tears by the time she was finished.
BARBIE isn't interested in telling girls and women to conform to what society expects of them. Instead, its underlying message is that girls and women are fantastic AS IS, flaws, failures, and contrariness included.
Little Jeaniene would have stood up and cheered. Big Jeaniene just might go buy something pink.