It's that time of year again. The temperatures are starting to drop, pumpkin spice flavors are in the air, horror movies and shows are releasing, and decorations are about to get spooky. Yesterday afternoon, the first of October, I broke out my large construction bag labeled "Halloween" and got to work! Behold: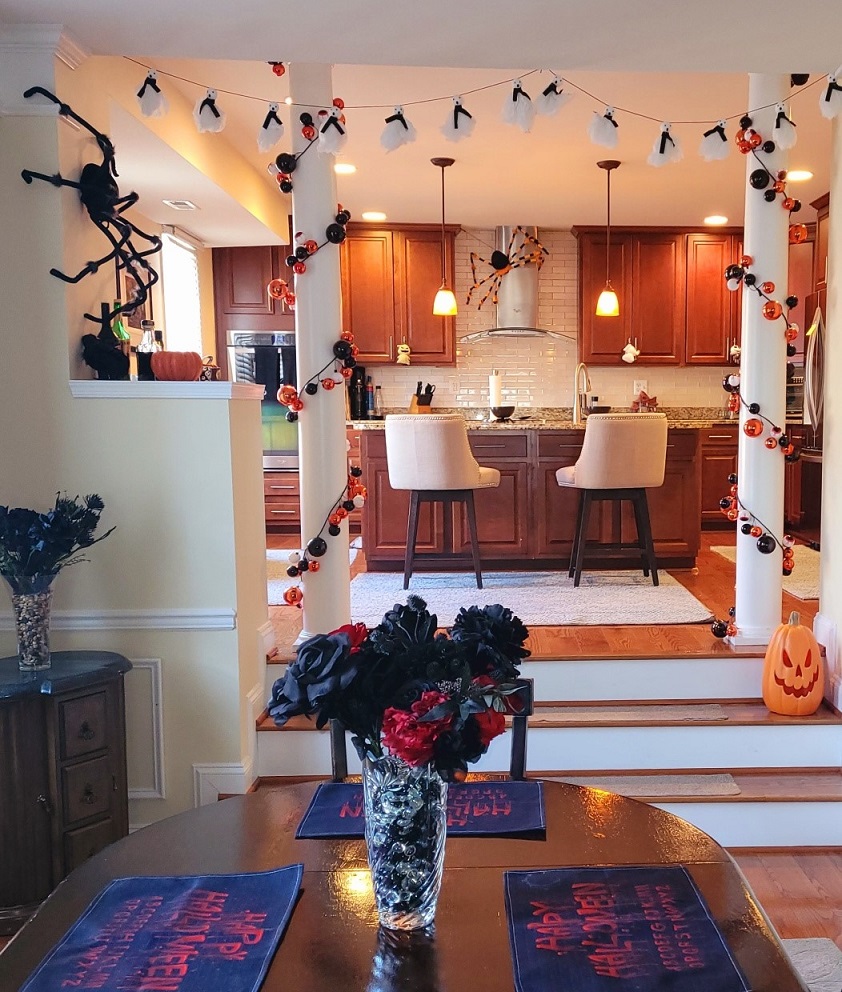 I also decorated my living room, the front of my house, and my bathroom, but I didn't include those pics because you get the point.
I wish that's all I'd done with my Sunday, but I also woke up at 6:15am to a strange beeping sound that infiltrated my dreams until I realized that it was coming from inside the house. I groggily dashed downstairs, where the sound was much louder, and found its source and my husband in the basement. He'd already knocked down the smoke alarm thinking that was the source (it wasn't) and was looking to see if it was the sump pump's alarm, but I noticed that the now-blaring sound came from our combo Carbon/Explosive Gas alarm.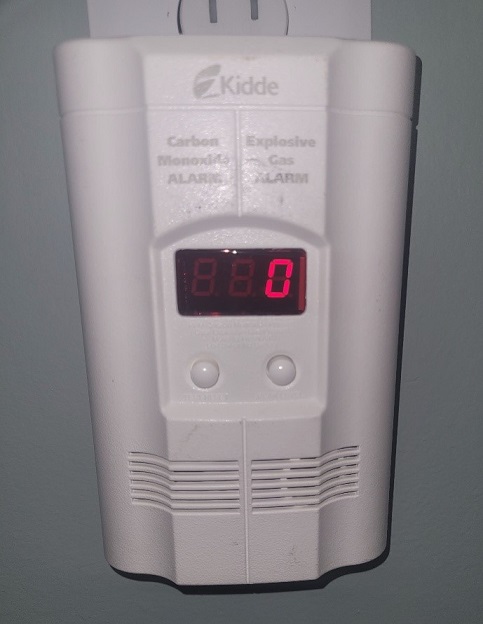 It shows 0 now, but yesterday morning, it said "GAS" while screeching.
I immediately called 911 and opened some windows upstairs (the basement has no windows) while telling my husband, "Get the dogs, we have to leave NOW." Know that question about what would you grab if you only had two minutes to pack? I can now truthfully answer that. It was my dogs, my husband's prescription meds, my dog's prescription meds, my cell phone, and my purse. I'm not counting hubby on this list because (1) he's too big to carry, and (2) he was helping me get the dogs leashed and out the door.
The fire trucks came quickly. After they inspected the basement, I was relieved to discover that it was not explosive gas because images of our house turning into a flaming rubble kept running through my head. It was, however, carbon monoxide, at a level that wasn't lethal, but was getting close to the "dangerous" point, per a firefighter.
I'll fast-forward over the next three hours where the fire department did their inspection to find the source, thought it was my a/c unit, then called in my local power & gas company and left. The power & gas company did their inspection, disagreed about what caused it, and called the fire department back. Then, both of them re-inspected everything. The culprit turned out be the backup battery on the sump pump, of all things. Apparently, the battery had shorted out, and in its damaged state, was giving off carbon monoxide. No, I didn't know that was a thing, but I guess it is.
Why I'm mentioning that, and picturing the alarm above, is because at one point during this whole thing, a fireman turned to me and said, "You know you have another carbon alarm in your basement that hasn't gone off once, right?"
I looked. He was right. While the Kidde Combo Carbon Monoxide and Explosive Gas alarm had gone off, albeit flashing the wrong component, my carbon-only alarm was as silent as a sleeping lamb.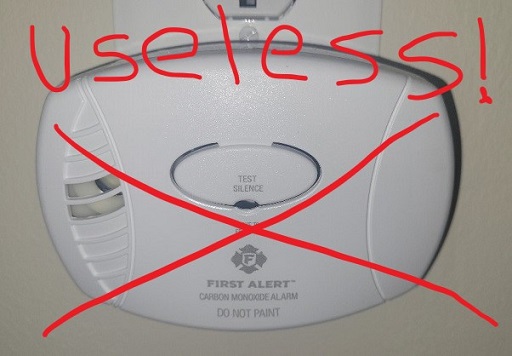 Why did I have two types of alarms in the same place? I take this carbon-only alarm with me when I travel. When I'm home, I stick it in the basement, next to the combo gas/carbon alarm that I only got when I moved to Maryland two years ago because the house's original stove and water heater were gas, and I wanted a gas detection alarm in case of any dangerous leaks.
So, after the fire department and gas company left, I threw away the carbon-only alarm, and ordered two more of the Kidde Combo alarms (Amazon link HERE if you're interested.) The Kidde Combo alarm costs double what the First Alert alarm did, but it WORKED. I might have been muttering "You had ONE job, and you didn't do it!" about the other alarm as I threw it in the trash.
If you're not aware, carbon monoxide is odorless, and one of the early symptoms of too much exposure is headaches, which I would have ignored because I get migraines on the regular. The carbon monoxide would've kept building in my basement until it reached the main level of the house, putting me, my husband, and my dogs in serious danger. Every year, hundreds of people die from accidental carbon monoxide poisoning*. Needless to say, I'm very glad that my gas-appliances paranoia caused me to get the combo alarm. I'm also very glad for the fire department's quick response (both times!), and the power & gas company's thoroughness. Big thanks to all those great folks!
And then, with all my anxious energy over my potential near-miss with the Grim Reaper, I decorated for Halloween. And that, friends, is how I turn a frown upside-down.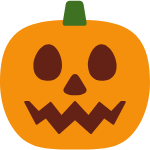 *Source. Full link: https://www.cdc.gov/nceh/features/copoisoning/index.html#:~:text=Every%20year%2C%20at%20least%20420,your%20household%20from%20CO%20poisoning.