Hi there! I'm happy to let you know that the great people at Ashland Public Library are kicking off a "Romance Swag Bag" auction TOMORROW through October 18th, and I'm one of the 50+ author donating some books and fun items! The auction's proceeds will benefit the library, and if its name sounds familiar to you, it's because Ashland Library has hosted several of my online chats, as well as many other authors. Libraries are already having a tough time, so right now, you can help one out AND score some great items, too.
In my auction bundle LINKED HERE, you will get all the below items for the low starting bid of $15: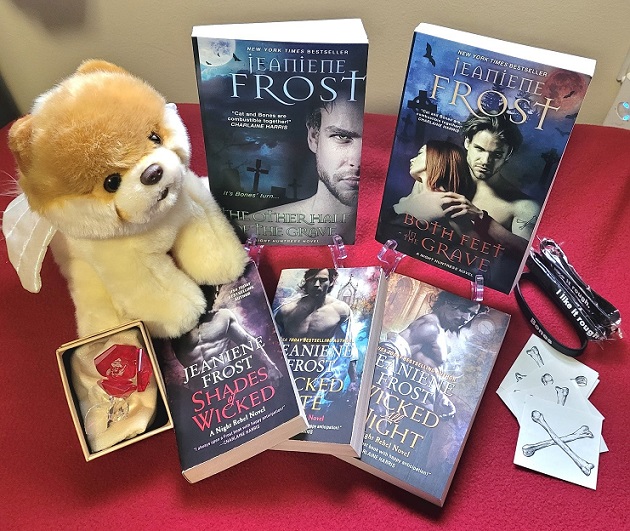 Books: SHADES OF WICKED, WICKED BITE, WICKED ALL NIGHT, THE OTHER HALF OF THE GRAVE, and BOTH FEET IN THE GRAVE will all be signed and personalized to you, but wait! That's not all!
You will ALSO get a personal, 10-minute Zoom chat with me, hosted by Ashland Public Library. I'll answer any burning question you might have about my books, my characters, the publishing biz, my favorite movies, your favorite movies–whatever you want! Let's get chatting, because while my vampires bite, I promise that I don't.
Now, some of you might be wondering, What's with the stuffed animal and the rose thingy in that pic?
In WICKED BITE, Ian gives Veritas a bouquet of magic-infused, crystalline scarlet roses. Veritas also ends up having a pet Simargl, which looks like a dog with wings. A while ago, I bought a little glass rose and a stuffed, winged doggie in honor of Silver the Simargl and the roses that Ian got Veritas. I intended to give them away as prizes, but I never got around to it. Here's a closer shot of them: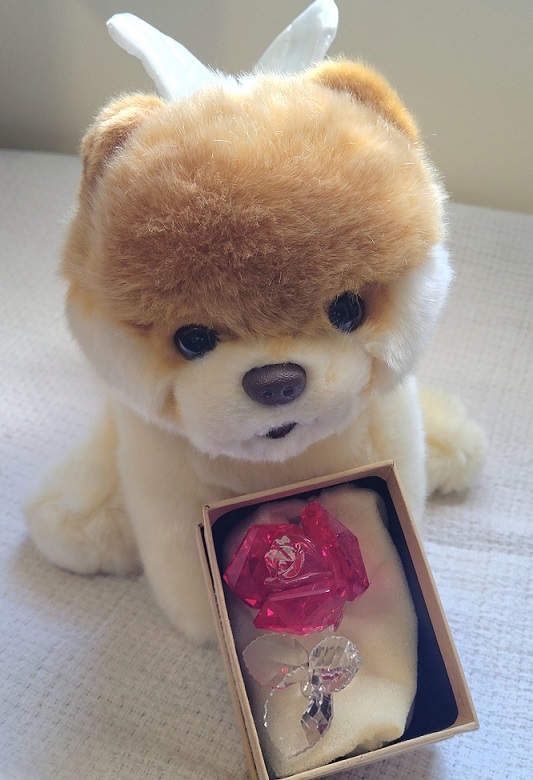 Well, my laziness is to your benefit because now, the stuffed version of Silver the Simarl, a sparkly (but NOT magical) rose, five signed, personalized books, some temporary tattoos of Bones's tattoo, fun bracelets that say "BONES: I Like It Rough" (you know he does!) and a personal Zoom chat with me can all be yours for good cause!
Once again, the link to bid on these items is HERE, and bidding starts tomorrow, October 11th, and ends on October 18th.
You can also find the amazing auction lineup of other authors authors like Ilona Andrews, Colleen Hoover, Julia Quinn, Sonali Dev, Kresley Cole, Jennifer Estep, Alyssa Day, and many more on Ashland Library's main auction page HERE.
Good luck, and happy bidding, everyone!