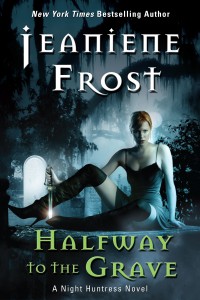 The night before last, I had just finished a book and wanted something else to read, but it was late and my eyes were too tired to start a new book. So, to kill some time, I re-read the first chapter of Halfway to the Grave. Then, before I fell asleep, I thought about how their first encounter would read if it was written from Bones's point of view.
When I woke up, I was still thinking about that. So, just to amuse myself, yesterday I wrote it out. Well, most of it. I ended it before the actual end of the HTTG's Chapter One. Today, I re-read it and it still amused me, so I thought I'd share it with you.
ETA: The previous unrevised, unedited chapters have been taken down. You can read an extended excerpt from THE OTHER HALF OF THE GRAVE here. (link: https://www.jeanienefrost.com/books/the-other-half-of-the-grave/)
THE OTHER HALF OF THE GRAVE releases April 26th. Order yours at #Ad Amazon, B&N, Apple Books, Kobo, or your favorite retailer.