Sorry for not posting the new Bones pov chapter yesterday! Black Friday shopping and a headache took up most of my day. The new chapter is below, but before we get to that, I'm happy to announce a new appearance in February! Come see me and several authors for THE ROMANCE AFFAIR at Barnes & Noble in Palm Beach Gardens, FL on Saturday, February 8th at 1pm. There will be a Q&A followed by a group signing, so it should be a great time. Full list of authors and details below. I'll be celebrating WICKED BITE's release, of course, so I really hope to see some of you there. And, in case you missed the news last week, Ian and Veritas's first book, SHADES OF WICKED, is on sale for only $1.99 in ebook for just a little while longer. Get yours (#Ad) Amazon, B&N, Apple Books, Kobo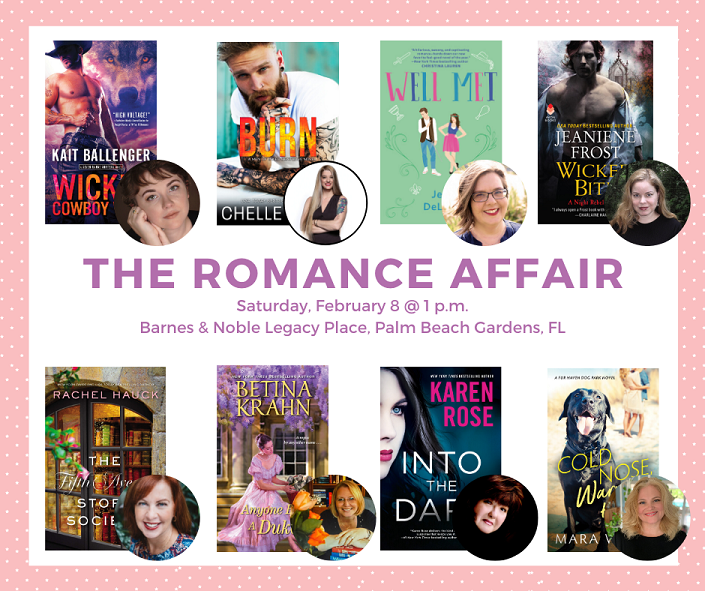 And now, to the new Bones pov chapter! Usual reminder: THE OTHER HALF OF THE GRAVE is not an entire book, nor is it a new Cat and Bones novel. For more information and to read the previously-posted chapters, go HERE. Oh, and since someone asked, there will be new chapters every week from now through January, so there's plenty more free reading to come. Disclaimers, new appearances, and sale alerts aside, happy reading :).
Copyright Jeaniene Frost. All rights reserved.
Chapter Seven
"First things first," Bones said, settling himself onto a boulder as if it were a chair. "If you're going to be truly good at killing vampires, you need to know more about them."
After a moment, Cat sat on the boulder opposite him. He'd picked this spot because it was toward the entrance of the cave, where light filtered in through cracks in the rocky ceiling. She might be able to see well in the dark, but he didn't have to keep her limited to darkness.
"Sunlight doesn't do anything but give us a bad sunburn." Interest flicked on her face, as if he'd answered a question she'd long wondered about. "However, we do like to sleep in the day because we are most powerful at night. During the day we are slower, weaker, and less alert, especially at dawn."
Brand new vampires couldn't even stay conscious for the first few weeks at dawn, but he left that part out. No need to whet her appetite for a kill that would never happen.
"By dawn, you'll find most vampires tucked into whatever they call a bed, which, as you could tell from last night, doesn't mean a coffin," he continued. "Oh, some of the old-fashioned ones only sleep in coffins, but most of us sleep in whatever's comfortable. In fact, some vamps will have coffins staged in their lair so some Van Helsing wannabe will go there first while the vampire sneaks up on them. Done that trick a time or two myself. So, if you think throwing up the blinds and letting the sun steam in will do the trick, forget it."
Her expression was rapt. If she still had her mobile, he expected she would've started taking electronic notes. Inwardly, Bones smiled. She might be listening in anticipation of turning herself into a better killer, but she was still learning more about the other half of her nature than she had before. Nothing chipped at blind bigotry more effectively than knowledge.
"Crosses. Unless they're rigged up like yours, they'll only make us laugh before we eat you. Wood, as you are aware, can give us splinters, but it won't stop us from ripping your throat out. Holy water…well." Bones gave a dismissive grunt. "I've had more damage done by someone throwing dirt in my face. The whole religious thing is bunk when it comes to hurting our kind, got it?" No god worshipped has a problem with us, he didn't add, but hoped she realized that from the subtext. "Your only advantage is that when a vampire sees that special stake of yours, they won't be put off."
"Aren't you afraid I'll use this information against you?" she asked in a soft voice.
Bones leaned forward. At once, she leaned back. The single gesture reinforced how much she despised all things vampire, including him. Before he could change that, she was right; he couldn't have her using this information to plot his demise.
Time for the stick.
"You and I are going to have to trust one another to accomplish our objectives, so I'll make this very, very simple: If you so much as look cross-eyes at me and I even wonder if you're thinking about betraying me, I'll kill you. Now, that might not scare you, being the big brave girl that you are, but remember this: I followed you home the other night. Got anyone you care about in that barn of a house?"
He let the sentence dangle.
She gulped, paling a shade whiter than death. He could practically hear her mind filling in terrible threats he'd never be evil enough to utter. In this, her revulsion of vampires would be to his benefit.
Stick, accomplished. Now, the carrot.
"Besides," he said in a more cheerful tone. "I can give you what you want."
Her expression couldn't be more doubtful. "What could you possibly know about what I want?"
"You want what every abandoned child wants. You want to find your father."
Her heart skipped a beat before accelerating into a loud staccato.
"But you don't want a happy reunion," Bones went in, his tone deepening. "You want to kill him."
Her gaze fixed on his as if he'd used his power to mesmerize her. "You can help me find him? How?"
Bones shrugged as if he didn't know firsthand the kind of hatred a person could harbor against someone who'd hurt and abandon their mother. "For starters, I know a great many undead types, so without me, you're looking for a needle in a fangstack. Even if I don't personally know him, I already know more about him that you do."
"What? How?" she sputtered.
"His age, for example." When her confusion didn't abate, he sighed. She knew nothing about the species she'd committed her young life to killing. "You're what, twenty-one?"
"Twenty-two," she corrected in a whisper. "Last month."
"Indeed? Then you have the wrong age as well as the wrong address on that fake license of yours."
Her chin lifted. "How do you know it's a fake?"
He snorted. "Didn't we just cover this? I know your real address, and it's not the one on that license."
Though it was clever of her to have a false one on her person when she hunted. If he hadn't followed her home, he would have been chasing down information on the wrong person.
"Come to think of it, you are a liar, possessor of false identification, and a murderer," he said, enjoying the little huff she made when she was indignant.
"Your point?"
"Not to mention a tease," he went on. "Foulmouthed as well. Yep, you and I will get along famously."
She gave him a withering look. "Bollocks."
Bones grinned. "Imitation is the sincerest form of flattery. But back to the subject. You said your mum carried you for what? Five months?"
At once, her expression changed, going back to the haunted one that no one her age should wear. "Yes, why?"
He leaned forward. This time, she didn't lean back.
"When you're changed into a vampire, it takes a few days for some of the human functions to stop completely. Oh, the heartbeat stops right off and the breathing does as well, but tears still look normal for the first day or so before you cry only pink due to the blood-to-water ratio in our bodies. You might even piss once or twice to get it out of your system. But the main point is, you father still had swimmers in his sacks."
"Excuse me?" she said in her prissiest tone.
"You know, luv. Sperm. Your father still had living sperm in his juice. Now, that could only be possible if he'd been newly changed. Within a week at most. Right off, then, you can pinpoint almost exactly how old he is, in vampire years. Add that to any recent deaths around that time and place matching his description, and bingo! There's your da."
Shock crossed her features as she processed this. Bones waited, saying nothing. When she finally looked back at him, that shock had been replaced by flintlike determination.
She'd worn the same look all those times she'd gotten back up after he knocked her down during their fight. Nothing would stop her from seeing their arrangement through now. But, of course, she was still suspicious.
"Why do you want to help me find my father? In fact, why do you kill other vampires? They're your own kind, after all."
Yours too, Bones didn't say, but it was true despite her denial. "I'll help you find your father because you hate him more than me, so it'll keep you motivated to do what I say."
She gave a nod she didn't even seem to be aware of.
"As for why I hunt vampires…you don't need to bother about that now." She wouldn't believe him even if he told her. "Suffice it to say that some people just need killing, and that goes for vampires as well as humans."
She didn't argue, which meant she must've met some evil sods with heartbeats, too. God knew the world had no shortage.
"Back to the subject," he said. "Guns don't work on us, either, with only two exceptions. One, if the bloke is lucky enough to shoot our necks in two. Decapitation does work; not many things can live without a head, and a head is the only part on a vampire that won't grow back if you cut it off. Two, if the gun has silver bullets and enough are fired into the heart to destroy it. That's not as easy as it sounds," he warned. "No vampire will stand still and pose for you. Likely, he'll rip you apart before any real damage is done. But those silver bullets hurt, so you can use them to slow a vamp down and then stake him, though you'd better be quick with that silver because you'll have a very brassed-off vampire on your hands."
She nodded, giving him that laser-like attention again. Staring into her dark gray eyes was like starting into the heart of a gathering storm. Even dirty and blood-streaked, she was ridiculously beautiful, and so earnest it broke his heart.
She shouldn't be concerned with the best way to murder anyone, especially vampires. But somehow, she was convinced that she didn't deserve more to life than this.
I'll change that, he swore. But for now, he'd hold up his end of their bargain.
"Strangulation, drowning, none of that does anything. Vampires only breathe about once an hour for preference, and we can go indefinitely without oxygen. Our version of hyperventilating is to breathe once every few minutes. That's one way to tell a vamp is tiring; he'll start to breathe a bit to perk up. Electrocution, poisonous gas, ingestible poisons, drugs…none of those work."
"Sure we can't test some of those?" she muttered.
He tapped his left index finger with his right one in the universal gesture for ah-ah-ah. "None of that, now. You and I are partners, remember? If you start to forget that, maybe you'd remember the things I mentioned would work really well on you."
"It was a joke," she said with no conviction.
Such a terrible liar. "The bottom line is that we are very hard to put down. How you managed to plant sixteen of us in the ground is beyond me, but then the world never lacks for fools."
She huffed. "I would have had you in pieces if you hadn't made me drive and then sucker-punched me when I wasn't looking."
He laughed. She stared at him before quickly looking away as if something she'd seen had rattled her.
"Kitten, why do you think I made you drive?" he said, still chuckling. "I had you pegged five seconds after speaking with you. You were a novice, green to the gills, and once off your routine, helpless as a babe. Of course I 'sucker-punched' you. There is only one way to fight, and that's dirty." He'd learned that at great cost in his youth. "Clean, gentlemanly fighting will get you nowhere but dead, and fast. Take every cheap shot, every low blow, absolutely kick someone when they're down, and then maybe you'll be the one who walks away. Remember that." His laughter faded. "This isn't a boxing match. You can't win by scoring the most points."
"I get it," she said in grim tone.
She probably did. She'd killed over a dozen vampires, and any one of them would have murdered her for the attempt, had they been lucky enough to survive it. She'd known that. Must be why she carried false identification so her family wouldn't be harmed in retaliation, if one of her targets rifled through her things after murdering her. Many people could be brave in the heat of battle, but for years, she'd prepared for her own death with the kind of ice-cold courage that few had.
Yet another thing to admire, but she had to think this was a business arrangement he cared little about.
"Now we're off topic," he said. "We've covered our weaknesses. Onto our strengths, and we have many. We can scent you long before we see you, and we can hear your heartbeat a mile away. In addition to that, all of us have some form of mind control over humans. A vampire can suck a pint of your blood and seconds later, you won't even remember seeing one. It's in our fangs, a little bitty drop of hallucinogen that, when combined with our power, makes you susceptible to suggestion. Like, for example, someone didn't just suck on your neck, but you met a bloke and had a chat and now you're sleepy. That's how most of us feed," he stressed. "If every vampire killed to eat, we'd have been outed from our closet centuries ago-"
"You can control my mind?" she interrupted, horrified.
Doubtful, but no need to wonder when he could be sure. His eyes flared green as he let his power out.
"Come to me."
Any regular human would be on their feet and moving toward him. She recoiled and hissed, "No fucking way."
He grinned and let his eyes return to their normal dark brown shade. "Appears not. Good on you. Can't have you getting all weak-minded and forgetting your goals, can we? Probably it's your bloodline. It doesn't work on other vampires, either." She bristled and he clarified, "Or other humans who imbibe of vampire blood. Some humans are immune to it also, but only a small percentage. Have to have extraordinary mind control or natural resistance not to let us meddle about in your heads. Video games have solved that as far as most of humanity goes. That, and telly."
"Telly?" she repeated in confusion.
Americans. "Television. Don't you speak English?"
"You sure don't," she mumbled.
Please. He'd spent so little time in England recently, he probably sounded more like a Yank than a Brit.
"Daylight's burning, ande still have a lot to cover. We've gone through the senses and the mind control, but don't forget our strength. Or our teeth. Master vampires are strong enough to break you in half and carry the pieces with a finger. We can throw your car at you if we want to, and we'll rip you apart with our teeth. The question is, how many of our strengths do you have in you?"
Her head lowered and she hunched as if about to reveal damning secrets. "Darkness doesn't affect me. I can see as well at night as in the day. I'm faster than any human I know," she added, now giving him a glance through her lashes. "I can hear things from far away, maybe not as far as you can. But sometimes in my room at night, I could hear my grandparent's downstairs whispering to each other about me-"
She paused at his raised brow. He schooled his expression to show nothing, but anger burned. Her whole bloody family had ostracized her when she couldn't help how she'd been born?
"I don't think I can control anyone's mind," she went on. "I mean, I've never tried it, but I think if I could, people would have treated me differently…anyway," she continued in a brisker tone. "I know I'm stronger than the average person. When I was fourteen, I beat up three boys, and they were all bigger than me." Bitterness crept into her tone. "That was when I couldn't hide anymore from the fact that something was very wrong with me. You've seen my eyes."
She said it as if they were the most hideous of deformities. He couldn't disagree more. Her glowing green eyes were a miracle, as was she.
"I have to control them when I'm upset so other people don't see them glow. My teeth are normal, I guess. They've never poked out funny, anyhow…"
Her voice trailed off and she kept glancing at him as if expecting him to rain insults upon her. She spoke of her dazzling uniqueness with more shame than he'd heard genocidal murderers speak of mass atrocities.
"Let me get this straight," he said in a carefully controlled tone. "You said at fourteen you truly realized your uniqueness. You didn't know what you were before then? What did your mum tell you about your father when you were growing up?"
Pain filled her gaze. "She never mentioned my father. If I'd ask, as I did when I was little, she'd change the subject or get angry. But the other children let me know. They called me a bastard from the time they could speak."
She closed her eyes. Briefly, Bones did too.
Oh, how well I know that pain, Kitten…
"Like I said, when I hit puberty I started to feel even more different," she said, opening her eyes. "It got harder to hide my weirdness like my mom told me to. I liked the night most." For a moment, her tone softened. "I'd wander for hours in the orchard. Sometimes, I wouldn't even sleep until dawn…"
Of all the things she'd spoken of, this was the only memory that didn't seem strafed with pain. He almost smiled at the image of a young Cat playing in the orchard all night. Then her tone hardened and tightness filled her features.
"But it wasn't until those boys cornered me that I knew how bad it was."
"What did they do?" he asked softly.
She closed her eyes again. "They were pushing me, calling me names, the usual stuff. That didn't set me off; it happened almost every day."
It was a damn good thing she couldn't see his expression or she'd leap back in fear. All I need are names, he thought coldly. Never too late for bullies to pay for their crimes.
"But then one of them called my mother a slut, and I lost it. I threw a rock at him and busted his teeth out. The others jumped me, and I beat them."
She opened her eyes. His expression was schooled back into blankness. If she saw his pride in her, she'd be suspicious.
"They never told anyone what happened."
Bet they didn't, the sniveling little shits.
"Finally, on my sixteenth birthday, my mother decided I was old enough to know the truth about my father. I didn't want to believe her, but deep down, I knew it was true. That was the first night I saw my eyes glow. She held a mirror up to my face after stabbing me in the leg-"
She did what? His horror must've pierced his controlled mask because at once, she began to defend her mum.
"She wasn't being mean. She needed me upset, so I could see my eyes. About six months later, I killed my first vampire."
Her words excused her mum's actions, but her eyes filled with tears that she tried to blink away. Those tears kept Bones from pointing out that even after she'd tried to kill him, he – a "cursed" vampire – hadn't been cruel enough to stab her, and he'd thought she might be working for a murdering slaver, too.
No wonder her eyes had held such desperation. Her own mum had broken her, and she'd done it when Cat had been at her most vulnerable.
But Cat hadn't stayed broken. Somehow, she'd picked up the pieces and molded herself into an avenger of the very woman who'd shattered her. Now, with every vampire she slew, Cat was trying to murder the parts of herself her mum had caused her to despise…and also to buy back her mother's love.
She shouldn't have had to be that strong. No one should.
Suddenly, she stood. "Speaking of my mother, I have to call her. She'll be worried sick. I've come home late before, but I've never been out this long. She'll think one of you bloodsuckers finally killed me."
That smashed through his control. "Your mum knows you've been hunting vampires? And she allows you do to do this?"
Blimey, she didn't have to hunt for monsters: she lived with one!
"I thought you were joking when you said she knew you were putting a dent in our population. If you were my child, I'd have you nailed inside your room at night."
Her face went red from rage, but once again, her eyes stopped him. She hadn't looked this hurt when she thought he was going to kill her. Deep down, she must know how wrong her mum's actions were. She just couldn't bring herself to admit it yet.
"Don't speak about her that way! She knows I'm doing the right thing! Why wouldn't she support that?"
Because she should love you more than she hates the species of the sod who raped her.
He didn't say it. The only reason she'd agreed to partner with him was so she could learn to be a better vampire killer. If he pointed out that no amount of superior slaying skills would make her mum love her if she didn't already, he'd never see her again.
So, he forced himself to shrug. "Whatever you say."
Then he stood in front of her.
She blinked, startled by his speed. If she knew all his abilities, she might faint, so for now, he'd only show her what was necessary.
"You've got good aim when you throw things. Found that out when you checked your cross at me. Just think, a few centimeters lower, and you'd be planting daisies over my head by now. We'll work to improve your speed and accuracy. You'll be safer if you can kill from a distance. You're too vulnerable up close."
To emphasize that, he grasped her upper arms. She tried to pull away and couldn't.
His brow arched. Exactly.
"Your strength leaves much to be desired. You're stronger than a human man, but as weak as the weakest vampire. Also, your flexibility is shit, and you don't use your legs at all when you fight. They're valuable weapons and should be treated as such. As for your speed …that might be hopeless. But," his tone brightened, "we'll give it a go. The way I figure it, we have five weeks of hard training, and one week to work on your looks before we can get you out in the field."
"My looks?" she repeated, her cheeks filling up with a lovely, angry shade of red. "What's wrong with them?"
Bones gave her his most patronizing smile. "Oh, nothing horrible, but still something that needs fixing."
His needling had her forgetting all about the pain of her mum's rejection. Indeed, if her face got any redder, it would soon match her hair. "How dare you-"
"After all, we're going after some big fish," he interrupted her mid-sputter. "Baggy jeans and tee-shirts won't cut it. You wouldn't know sexy if it bit you in the arse."
Green flashed in her eyes. "By God, I am going to-"
"Quit blathering," he cut her off again, now fighting to hold in his laughter. It wasn't all lies. She was stunning, but she didn't present herself that way. Maybe she didn't even realize it. By the time he was through, she would, as would everyone who set eyes on her.
Besides, it would help with hunting vampires. A beautiful woman in a tight, tiny dress would be irresistible to them…and Bones couldn't wait to see her in one himself.
"Didn't you want to call your mum?" he tempted her. "Come with me. My cell phone's in the back."
Once again, he heard her mutter threats under her breath, this time involving silver-studded barb wire and his nether regions. But once again, she followed him.
***