Sorry for the delay posting this today. It's been a crazy week (my cold turned into bronchitis! The dishwasher broke! The dog had stomach issues! All with family staying over at my house, of course.) But, oddly enough with all that, we still had a very nice holiday. I hope you did, too. Here's me and Gypsy on Christmas, with Loki poking his nose in on the bottom right: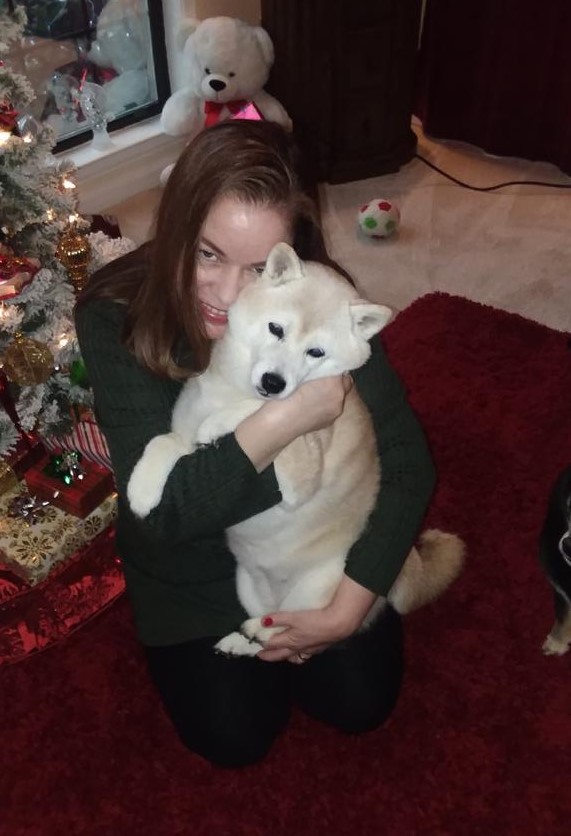 And now, to the chapter! In this one, Cat finally drives Bones to lose his temper. Usual reminder: THE OTHER HALF OF THE GRAVE is not an entire book, nor is it a new Cat and Bones novel. For more information and to read the previously-posted chapters, go HERE. There will be new chapters every week from now through part of January. Disclaimers and reminders aside, happy reading!
Chapter Thirteen
Five days later, Bones met her by the entrance of the cave instead of in his usual spot in the makeshift living room. She gave him a surprised glance that took in his all-black attire. Unbeknownst to her, he also had a black ski mask tucked into his pocket. He wouldn't risk his dyed blond hair giving him away against the night sky if he needed to fly them away later.
Because tonight, they hunted.
"Now, you're clear on all the details, right?" he said without preamble. "You won't see me, but I'll be watching you. When you leave with the target, I'm going to follow you. Anywhere outside is fine, but do not, I repeat, do not let him take you inside any buildings or houses. If he tries to force you inside one, what do you do?"
She made an exasperated sound as she stepped around him. She was now so used to the cave's uneven terrain, she hopped lightly over ground that most people wouldn't be able to see.
"For God's sake, Bones, we've been over this a thousand times."
"What do you do?" he insisted.
She held up her wrist. "Hit the pager in the watch, Mr. Bond, James Bond. You'll come running. Dinner for two."
He grinned and gave her shoulder a companionable squeeze. "Kitten, you have me pegged all wrong. If I go for your neck, I have no intention of sharing."
That earned him a glare, but beneath it was a growing look of trust that tugged on his heart like a thousand invisible strings. When he'd given her the watch, she'd joked that it looked as old as the one her grandpa wore. That was the point. Her target would be wary if he saw her pressing buttons on a modern Smart watch, but no one would give this aged-looking piece a second glance. It also had a special, hidden button programmed to send a signal directly to his mobile. If she found herself in danger, she need only hit the button, and he'd be there.
"Are you finally going to tell me who I'm after tonight?" she asked, ducking under the low slab of rock that hid the path to his section of the cave from view. "Or do I find out later if I've staked the wrong guy? You've been pretty secretive about the identity of tonight's target. Afraid I'd rat you out?"
She asked the last part with a teasing note to her voice, but from the quick look she gave him, she was serious.
"It was better for you not to know beforehand. That way, no accidental slips. Word can't get out if word isn't spoken."
After all, this was more than a simple job. It was another domino that would hopefully help him topple a secret undead empire when he was through.
She didn't answer. She just hopped over the gap in the naturally-formed stalagmite bridge, and then went up the slope that led to his current living quarters. He followed, frowning when her scent sharpened with displeasure.
He'd offended her. He hadn't meant to, but had she forgotten that only a few weeks ago, she would have cheerfully sold him out to his enemies, let alone murdered him herself?
She reached the living room area and dropped her purse onto the couch. Then she went inside the dressing room he'd set up for her and shut the screen. Most of her new clothes were there since she said her mother would throw out all of her "slut gear" if she saw it. Once she was behind the screen, she spoke.
"It amuses me to think of you worrying about my Freudian slips. Maybe you didn't hear me the other times, but I don't have any friends. The only person I talk to aside from my grandparents is my mom, and she's kept far out of this loop."
He closed his eyes. She was more than offended. She was hurt, and with her usual defense mechanism, she was covering that with sarcasm and quips.
He had to fix this.
"All right, luv. His real name is Sergio, though he might well give you another one. He's about six-one, black hair, gray eyes. Italian is his first language, but he's fluent in three others, so his English has an accent. He'd not very beefy. In fact, he may even look soft to you, but don't let it fool you. He's almost three hundred years old and more powerful than you can imagine. Also, he's a sadist." Bones's tone darkened. "He likes 'em young. Real young. Tell him you're underage, and you snuck in with a fake ID. It'll only switch him on more. You also can't kill him straightaway, because I need some information from his first. Oh, and he's worth fifty thousand dollars."
From the sudden silence, she'd stopped changing into her evening attire. After a few moments, she swung open the dressing room screen while clad in only her knickers and bra.
"Money," she said bluntly. "That's why you hunt vampires. You're a hit man!"
He took in every inch of her creamy, flawless skin, ignoring the scowl that his lengthy look earned him. If she was showing; he was admiring.
"Yeah, it's what I do. But don't fret. You could also say I'm a bounty hunter. Sometimes my clients want 'em back alive."
"Wow," she said in a musing way. "I just thought we were going after people who had pissed you off."
A snort escaped him. "And that was enough for you to kill for? Someone who might have looked at me cross-eyed? Blimey, but you're not particular. What if I were chasing some nice sweet thing that'd never hurt a fly? Still be all right with it then?"
She shut the screen with more force than necessary. "None of you are nice sweet things. You're all murderers. That's why it didn't matter. Point me at a vampire, and I'll try to kill it, because at one time they've done something to deserve it."
If she'd stabbed him, it would've been less painful. Worse, he had no defense since he'd never let anyone into his heart before. He rarely let anyone get close to him at all. Losing everyone he cared about when he was a lad had hardened him at a young age. Being imprisoned with little hope of release had hardened him even more. By the time Ian had turned him into a vampire, Bones's heart was practically stone. Now, it felt soft…and wounded.
Had he been lying to himself this whole time? Had nothing changed between them? Did she still see him as only a monster? Did she…did she still want to kill him?
She opened the screen enough to show her face. Whatever she saw in his expression made her shut it almost at once. Bones clenched his fists, trying to regain control while he reminded himself that she had almost no favorable comparisons of vampires to draw upon. In her mind, he was the only vampire she'd met who hadn't tried to murder her.
"Not every vampire is like the ones who killed those girls Winston told you about. It's just your bad luck to be living in Ohio at this particular time. There are things going on you don't know about."
"Winston was wrong, by the way," she said from behind the screen. "I looked up those girls' names the next day, and none of them were dead. They weren't even missing. One of them, Suzy Klinger, lived in the town next to mine, but her parents said she moved away to study acting. What I don't know is why Winston would make that up, but far be it for me to understand the mental workings of a ghost–"
"Bloody hell!" Bones shouted, his control evaporating. "Who did you talk to, aside from Suzy Klinger's parents? The police? Other families?"
How much danger had she put herself in?
"No one." She sounded part defiant, part unsettled. "I entered their names online at the library's computer. When nothing came up, I looked in a few local papers and then called Suzy's parent saying I was a telemarketer. That was it."
Some of his fear-fueled rage leaked away. She'd been cautious about her recklessness, if that combination were possible. He'd have Ted erase the library's security footage at once, assuming there was any security footage. Then, there would be no way for Hennessey or his soldiers to trace her searches back to her, if they had alerts programmed onto those missing girls' names.
"Don't go against what I tell you to do again," he said when he could speak without shouting.
She poked her head out, anger sharpening her features. "What did you expect? For me to forget about over a dozen girls being murdered by vampires because you told me to? See, this is what I'm talking about!" she said, as if responding to an argument she'd had with herself. "A human wouldn't act like that. Only a vampire could be that cold."
Like hell. He's seen his boyhood mates swing from the gallows for the "crime" of stealing food when they were starving, and that had been done by humans. Humans had also worked him nearly to death at the penal colony, and he'd never forget the horrors he'd seen human slavers commit. All the above made his tone scalding.
"Vampires have existed for millennia, and though we have our villains among us, the majority of us have a sip here and there, but everybody walks away. Besides, it's not like humans haven't made their mark for ill on the world. Hitler wasn't a vampire, was he? Humans can be just as nasty as we are, and don't you forget it."
"Oh, come on, Bones!" She snapped the curtain back, revealing she was now clad in the slinky green and silver dress. Then she began rolling hot curlers into her hair. "Don't give me that crap. Are you telling me you've never murdered someone innocent? Never drank the life out of someone when you were hungry? Never forced a woman who said no? Hell, the only reason you didn't kill me the night we met was because you saw my eyes glow, so sell that smack to someone who's buying–!"
He caught a curler she'd let slip during her tirade. She saw his hand move, and flinched as if bracing for a blow. Another invisible blade ripped through his heart, but this time, anger salved the wound.
"Think I'd strike you?" he asked in a scathing tone. "You really don't know as much as you claim. Aside from teaching you how to fight, I'd never lay a harsh hand on you. As for the night we met, you did your level best to kill me. I thought you were sent by someone, so yes, I smacked you and threatened you, but I wasn't going to kill you. No, I would have sipped from your neck and green-eyed you until you told me who they were. Then I would have sent you back to the shit with your legs broken as a warning, but I promise you this–at no point would I have forced myself on you. Sorry, Kitten. Every woman I've been with has wanted me to be there."
Blimey, in his youth, they'd paid him!
"Have I killed any innocents in my time? Yeah, I have. When you've lived as long as I have, you make mistakes. You try to learn from them. And you shouldn't be so quick to judge me on that. No doubt you've killed innocents as well."
Shame, confusion and doubt had flickered across her features, but at that, they hardened. "The only people I've killed were vampires who tried to kill me first."
"Oh? Don't be so sure. Those blokes you killed, did you wait for them to try to bite you first? Or did you just assume because they were vampires and they'd gotten you alone, they intended to murder you? Ignoring the very real likelihood that they were there because they'd thought a beautiful girl was hot to shag them." His voice lowered. "Tell me, how many of them did you kill before they'd even shown you their fangs?"
Her mouth opened, but she didn't speak. Confusion raged across her features, followed by stubbornness, denial, and finally, that bone-deep desperation that had driven her to hunt vampires to begin with.
"Whether they showed their fangs or not doesn't change the fact that vampires are evil, and that's enough for me."
He knew that was her mother's teaching speaking, not her. Still, his temper snapped.
"Bloody mule-headed woman! If all vampires are the filth you claim them to be, why wouldn't I just pry your legs open now and take out some of my evil on you?"
She glanced at her silver stakes and tensed, ready to lunge for them if he moved. Disbelief scalded him. He'd said that to point out the absurdity of her argument, and she'd believed it? And thought she had to protect herself against it?
He covered the fresh burst of pain with a derisive snort. "You never have to fret about it. Told you, I don't come in unless invited. Now hurry up. You have another murderous fiend to kill."
Then, before he said something else that inadvertently terrorized her, he left.
***