Before we get to the chapter, a contest head's up! Very soon, I will be giving away my last Arc (advance reading copy) of WICKED BITE, plus a $50 Amazon gift certificate, because the only thing better than a free book is a free book with MONEY, am I right? :).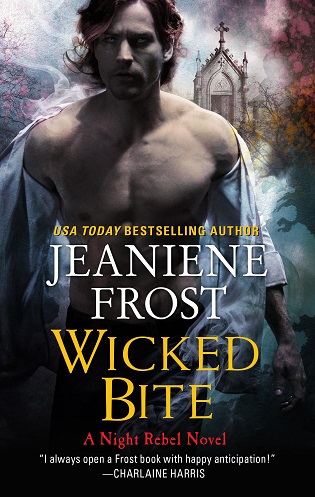 So, if you don't want to miss out on the contest, be sure to check my blog next week! (Hint: check it before next Friday.)
Now, to the new chapter, and with it comes another head's up: we're almost at the end of the Bones point of view chapters. As detailed HERE, this was an unfinished serial consisting of around 30K words, or roughly one-third the size of my usual novels. The below is the second-to-last chapter, and the final chapter will be posted next Friday.
My apologies if you won't get to see your favorite scene(s) from Bones's point of view. As I mentioned from the beginning, I didn't have time to write more, but I hope you've enjoyed the chapters that I did write. I know I've enjoyed sharing them with all of you :).
Chapter Fifteen
Bones wrapped Sergio's body in the sheets of plastic he'd tucked inside his jacket for this very purpose. Cat shook his blood from her hand and then resumed wrapping her wound. It would have been quicker to use Sergio's blood for healing, but she seemed more eager to get it off her than to get more on her.
She looked up in surprise when Bones shut the boot after throwing Sergio's body into it. He knelt next to her and reached for her bandaged arm.
"Let me see it."
"It's fine," she said in a short tone.
It was, but that didn't mean he'd be content to let her bleed. He brushed her fingers aside and peeled off the strips of fabric she'd wrapped around the wound.
"Nasty bite, tore the flesh around the vein. You'll need blood for that." And better his than Sergio's.
"I said it's fine," she repeated.
She could be stubborn all she wanted, as soon as she quit bleeding. He cut his palm with his knife, and then clapped his blood over the tears in her flesh.
"Don't be irrational. How much did he take?"
She glanced at her arm as if remembering. "About four good pulls, I guess. Stabbed him in the neck as fast as I could to get his mind off it. Where were you, anyway? I didn't see a car behind us."
The faintest tinge of hurt colored her tone, as if she thought he hadn't gotten there faster because he didn't care. He wanted to pull her against him and tell her nothing could be further from the truth, but she wasn't ready for that.
"That was the idea," he replied in as light a tone as he could manage. "I drove my bike but kept back far enough so Sergio wouldn't know he was being followed. Bike's about a mile from here down the road." And possibly still driving itself, if it hadn't topped over yet. "I ran that last part through the woods so there'd be less noise," he said to explain his sudden appearance without the motorcycle.
One day, he'd tell her he could fly, but not today.
Her bleeding had stopped, so he could let go, except he didn't want to. Not yet. She shifted as if sensing that, and then looked at the car and let out a shaky laugh.
"Wow, that's ruined. The rear door is in scraps."
He didn't care about the car's damage. He cared about hers. "Why did Sergio go for your wrist, if you were both in the backseat? Couldn't get to your neck?"
She sighed. "No. He got frisky in the front seat and tried to feel me up, thanks to you and the no panties idea. I wasn't about to let that happen, so I climbed in the back and put my arms around him from behind so he wouldn't get suspicious. Stupid of me, I know," she added to ward off criticism he wasn't about to give. "But I didn't even think of my wrists. Every other vampire had always done for my neck."
"Yeah, including me, right?" Bones said while resisting the urge to pull Sergio's body out of the trunk so he could stomp on it. "The car swerved off the road so fast, I thought you two were already sprawling inside. What made him pull off so erratically, then?"
"I told him to come and get me."
Her voice was matter-of-fact, but pain threaded her tone, and she could no longer look him in the eye. For a moment, she sounded as young as she was, and as vulnerable as she should have been, if life were fairer.
"Is he okay back there in the trunk?" she suddenly asked, that moment of vulnerability passing.
A laugh escaped him. "You want to keep him company?"
She gave him a pointed look. "No, but is he really gone? I'd always cut off their heads to be sure."
"Critiquing my work?" he replied, amused. "Yeah, he's really gone. Right now we need to get out of here before some nosy driver pops alongside and asks if we need help."
He finally let go of her wrist and rose, turning his attention to the mangled Mercedes.
"We need to move this vehicle."
She got up, too, giving the car a doubtful look. "How am I supposed to drive this wreck? Any cop that sees this is going to pull me over!"
"Don't fret. Have it all worked out."
He pulled out his mobile and rang Ted.
"It's me," Bones said when Ted answered. "Looks like I'm going to need that lift after all. You'll like the ride, it's a Benz. Needs a little body work, though."
"You, not being dainty?" Ted drawled. "Imagine that."
"Wasn't even me this time, mate. We're on Planter's Road, just south of the club. Step on it, right?"
"Will do," Ted replied.
Bones hung up. She watched him, her brows raised in silent question.
"Sit tight, Kitten, our ride will be here in a minute. Don't fret, he's nearby. Told him I might have a use for him tonight. 'Course, he was probably figuring on it being a little later in the evening. You left with Sergio right quick, didn't you? He must have been quite pleased with you."
Bones couldn't keep the edge from his voice at that last part. His jealousy also extended to the dead dead, it seemed. Thankfully, Cat didn't appear to notice.
"Yeah, real happy. Color me flattered. Seriously, though, Bones, even if you tow this car, there's still too much blood in it, and you didn't listen to me about bringing cleaning materials. This thing could have been at least mopped up."
She did remember that he was a professional, didn't she?
He took her arm again. She turned her wrist up, showing him that the ragged tears from Sergio's fangs were now gone. Still, he didn't let her go.
That's not why I'm touching you, Kitten. And you know it.
She glanced away, but she didn't move away.
Bones didn't move, either. He simply held her arm, feeling her warmth, the vibrations from her blood rushing through her veins, and her faint shivers at each stroke of his fingers. When she exhaled, he breathed it in, wishing he could draw more than these slight wisps into him.
He wanted her every passionate gasp while her body was beneath his. He wanted her honey drenching his mouth and his cock. He wanted her nails digging into his back, and he needed her cries ringing in his ears when she came…
And if he didn't redirect his thoughts, the result of his need would soon be so abundantly clear, he'd be clubbing her in the leg with it.
He closed his eyes. The seconds it took him to regain control felt like an eternity. She drove him to the brink without even trying. Sometimes, what he felt for her frightened him.
She shifted, the extended silence making her uncomfortable. Bones opened his eyes, this time glad that she was still looking away from him. Otherwise, she might glimpse his true feelings in his gaze, and she couldn't know about them yet.
"Trust me, luv," he finally said. "I know you don't, but you should. You did a smashing job tonight, by the way," he added to change the subject from the unspoken tension between them. "That stake in Sergio's back was just a thought away from his heart. It slowed him, as did the one in his neck. You would've had him even if I wasn't there."
And that's why he'd trained her so hard. If she was ever set upon by a Master vampire when she was alone, she needed to be tough enough to survive it. Tonight proved that she was.
"You're strong, Kitten," he went on. "Be glad of it."
Her gaze finally met his.
"Glad? That's not the word I'd use. Relieved? You could say that. Relieved I'm alive and there's one less murderer prowling around for naïve girls. But glad?" Her tone became bitter. "Glad would be if I never had this lineage. Glad would be if I had two normal parents and a bunch of friends, and the only thing I'd ever killed was time. Or if even once I'd been to a club just to go dancing and have fun instead of ending up staking something that tried to kill me. That's glad. This is just…existing. Until the next time."
She pulled away. Cold air splashed his hand, replacing her warmth. She walked off a few more steps, and then stopped and half-turned as if expecting him to come after her.
No. Not this time.
"Rot," he said curtly.
Her brows snapped together with her scowl. "Excuse me?"
"Rot, I said."
He could tolerate her bitterness since some of it was well justified, but this new bout of defeatism? It wasn't her, and he wouldn't pretend that it was.
"You play the hand you're dealt just like everyone else in this world. You have gifts people would kill for, no matter that you scorn them. You have a mum who loves you"–horrible person though she was–"and a nice house to go home to. So, sod your backwoods neighbors who look down their ignorant noses at you for your lack of a father. This world is a big place, and you've got an important role to play in it."
Her face darkened with anger. He ignored it. She was smart enough to know better despite this unexpected pity party.
"Think everyone goes around whistling with joy about the life they lead? Think everyone is given the power to choose the way their fate goes? Sorry, luv, it doesn't work that way. You hold the ones you love close, and fight the battles you can win, and that, Kitten, is how it is."
"What would you know about it?" she snapped.
He gave her all the laughter her ignorant remark deserved. Then, he hauled her close so she could see every bit of his expression.
"You haven't the slightest inkling of what I've been through, so don't tell me what I know."
Her eyes widened, and her heart rate doubled. Was he gripping her too tight? He relaxed his hands, but her pulse didn't slow. Instead, it accelerated as she kept flicking her gaze between his face and the scant distance between them.
He moved closer, until only the barest space separated their bodies. Her warmth breached that space, as did her scent. Both teased him, flitting over him without weight, yet still hitting him with the greatest of impacts.
She drew in a short, sharp breath and didn't move away.
He stared at her, silently urging her to give into the desire he saw blooming in her eyes. Then, lust nearly felled him when her gaze dropped to his mouth, and the tip of her tongue ran along her lips as if preparing them for his kiss.
Very slowly, he slid his tongue along his own bottom lip, fighting his urge to yank her to him. He wouldn't ruin this moment by moving too fast.
But this is your last chance to turn away, Kitten.
She stared at his mouth, her gray eyes lighting up with pinpricks of emerald from her desire. His control snapped, and he bent his head–
A horn blared, shattering the moment. Next, Bones heard the unmistakable sound of a tractor-trailer slowing to a stop.
He turned, cursing himself for allowing a bloody eighteen-wheeler to sneak up on him. Then he recognized the rig, and cursed Ted for ruining a moment he'd waited six weeks for. Why couldn't his mate have shown up ten minutes later?
"Ted, you bugger, good of you to arrive so quickly!" he said, his tone biting.
Ted grinned as he climbed down from the cabin. Despite having the appetite of a proverbial truck driver, Ted was still so skinny, one could be forgiven for assuming he had an aversion to food.
"I'm missin' my shows because of you, buddy," Ted greeted him, grin widening as he looked over Bones's shoulder to Cat. "Hope I didn't interrupt nothin' between you and that gal. Two of you looked awful cozy."
"No," she said in a guilt-scalded tone. "Nothing going on here!"
Ted laughed and ambled toward the wrecked and bloody Mercedes. "Sure. I can see that."
Cat glanced at Bones to see if he was buying her desperate lie. His brow arched.
Not for a moment, Kitten.
She looked away, but she couldn't hide from the truth. Not anymore.
Bones gave Ted a friendly cuff on the back.
"Ted, old chap, the car is yours. Just need to get a piece out of the boot, and then we're golden. Drive us to the place, we'll be done by then."
"Sure thing, bud. You'll like the back. It's air-conditioned. Some boxes to sit on, too. Or you could always ride in the car," he added with a sideways grin.
Where her blood still decorated the seats? Not likely.
"The back is fine."
Ted nodded. "Then let's put this baby to bed."
He and Ted opened the back of the trailer. Cat wandered over, curious. She looked impressed when she saw the vehicle stabilizing clamps and reinforced steel ramp that Ted lowered. Bones hid a smile.
Told you that you wouldn't need to fret about being pulled over while driving this.
Bones drove the Mercedes onto the ramp and parked it in the back of Ted's trailer. Then he and Ted secured it with the clamps. When that was done, he turned to Cat.
"Be right back. Have to fetch my bike."
As expected, he found the bike toppled over about a mile down the road. Thankfully, it wasn't damaged, so he drove it back to the trailer, and then loaded it next to the car. When he was finished, he beckoned Cat up into the trailer with him.
"Come on, Kitten. Your taxi's waiting."
Her brows furrowed. "We're riding in the back?"
"Yeah. Ol' Ted doesn't want to risk being seen with me. Keeps our friendship a secret. Smart bloke."
All true, and all unrelated to why he preferred being alone with her in the back to the two of them being in the front cab with Ted. From the look she gave him, she knew it, too.
"Smart, huh?" she mumbled under her breath as she climbed into the back of the trailer. "I envy that."
***