Lots to cover in this post, so let's get right to it! First, there's only about a week left where you can buy the first Night Rebel novel, SHADES OF WICKED, for only $1.99 in ebook. Behold, Ian is festively decorated for the holidays and wants you to bring him home! Note: Ian's new, bedazzled holiday nipples are courtesy of BFF Ilona Andrews' photoshopping skills and twisted sense of humor, so of course, you won't see them on the actual book. Order yours (#Ad) Amazon,  B&N, Apple Books, Kobo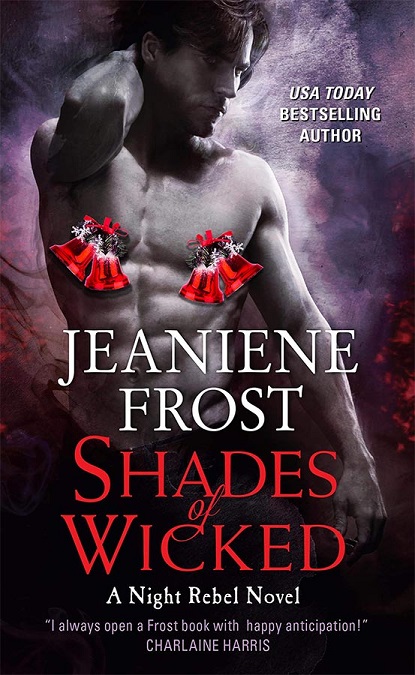 Second, a head's up: Next week, I will be holding new contests giving away signed copies of WICKED BITE, Night Rebel book two, PLUS a box of Godiva chocolate. So, if you want your chance to win, be sure to check out my blog AND–if you haven't already–sign up for my newsletter before then by clicking HERE because one of those contests will be for newsletter subscribers only.
And now, onto the new Bones pov chapter! In this case, it's chapters plural because, in the holiday spirit, I'm doubling the content :). Usual reminder: THE OTHER HALF OF THE GRAVE is not an entire book, nor is it a new Cat and Bones novel. For more information and to read the previously-posted chapters, go HERE. There will be new chapters every week from now through January. Disclaimers, sale alerts, bedazzled holiday nipples, and contest head's up aside, happy reading!
Chapter Eight
It took two weeks for her to stop smelling of fear. Granted, she wore rage and resentment as if they were designer perfumes, but he could hardly blame her. He trained her with the same ruthlessness that the poverty-ridden streets of London had trained him, but instead of the chronic hunger he'd endured as a boy, he gave her boulders strapped to her back while she climbed up the steep terrain in the cave. Instead of running from coppers after he'd been caught stealing to survive, he ran her through the woods until she vomited. And instead of the endless times he was jumped and beaten by older lads who robbed him of his meager belongings, she got hand-to-hand combat with him.
Each day, he wondered if she would quit. She didn't, constantly impressing him. Part of him had hoped this brutal training would make her rethink hunting vampires altogether. That hope increased the first week, when she threw off the boulders he'd strapped onto her and said, "I've had enough!"
"Have you?" Bones replied mildly. "If you no longer want to hunt vampires at all, that is indeed your prerogative. Plenty of other things you can do with your life."
"I'm not quitting that," she snapped. "I'm quitting this. I hunted vampires just fine before your back-breaking training techniques, remember? If I'd known what you intended with that stupid bargain, I would have gladly chosen death!"
She would be choosing death, if she insisted on hunting vampires without his training. She might have survived before on sheer luck combined with the element of surprise, but both of those were unreliable. Skill wasn't, and he'd make damn sure she had it even if now, she didn't think she needed it. 
That's why he smiled wide enough to show his fangs. "You'd rather die? Come here and prove it. I'm feeling peckish, anyway."
She stared at him.
He stared back, knowing her bias would make her believe he'd really drain the life from her without a second thought. After a long moment, she began strapping the boulders onto the harness he'd fashioned for her back. Then she resumed her trek up the cave's steep incline.
He'd never been so proud of her…or so irritated by her low opinion of him.
By the second week, she'd made remarkable gains with her strength, stamina, speed and–equally important–sense of when to duck. So much that she stopped losing consciousness in the middle of their bouts. She looked rightfully pleased with herself about this…until she realized she would now be awake when he gave her blood to heal her injuries.
"I won't do it," she said in her most obstinate tone.
"Two of your ribs are broken, your arm's dislocated, and your eyes are so black, you can double as a raccoon," Bones countered. "Going to return home to your family that way?"
Her jaw clenched. "I'll tell them I was in a car crash."
"You'd also be breaching our bargain because you wouldn't be able to continue your training for weeks," he said, again thrusting his bitten finger toward her. The holes had healed while they argued, but a few drops of his blood remained. "That's not an option, so quit complaining, open your mouth, and swallow."
"Don't you sound like every other guy?" she muttered, but finally popped his bloodied finger into her mouth.
With anyone else, he would have found the quip amusing. With her, jealousy hit him so hard, he was briefly robbed of speech. Her mouth was so warm, so inviting…and how many other blokes had thought the same thing while under much more erotic circumstances?
"Disgusting," she garbled as she swallowed his blood. "How can you things live off that?"
Things. His patience stretched to the breaking point.
"Necessity is the mother of all appetites," he said in a curt tone. "What you need in order to survive, you learn to love."
"All this blood better not turn me into a vampire. That was not our deal," she said, tipping her head back so his finger slid out of her mouth. Then she looked at the moistened digit, looked at him, and blushed as if picturing something other than his finger sliding out of her mouth. 
Lust strafed the unexpected jealousy that still had him in its grip. Never before had she looked at him that way. Finally, she saw him as a man, and judging from that blush, a man she was having naughty thoughts about.
It took all his control to wipe his finger as if nothing had occurred. She wasn't ready to act on the thought. From her expression, it was already gone, but it had been there. At last.
"Trust me, luv, you aren't having nearly enough blood to turn you into a vampire," he said, ignoring the new tension between them despite every part of him wanting to explore it. "Since you fret about it all the time, however, I'll tell you how it works. First, I'd have to drain you to the very point of death. There's a trick to that, taking enough blood without taking too much. Then, stuffed full of your blood, I'd let you drink it right back out of me. All of it, and then some. There's a trick to that, too. New vampires are harder to get off a vein than a starving babe off a juicy teat. These measly drops of blood I'm feeding you aren't doing much more than healing your injuries. They're probably not even enough to enhance your strength. Now, will you stop griping every time you have to lick a few bits off my pieces?"
Her face turned scarlet, and not from imagining anything personal between the two of them this time. She simply couldn't handle even mild sexual innuendo without obvious discomfiture. How she'd slain sixteen vampires by pretending to want to shag them was beyond him.
"That's another thing you have to stop doing," he said, addressing it head-on. "You turn red as a sunset at the slightest hint of innuendo. You need to be playing the part of an aggressive, horny woman! No bloke's going to believe that when he says boo and you faint from embarrassment. Your virginity's going to get you killed."
"I'm not a virgin," she countered.
Now insane jealousy slammed into him. For a few moments, he couldn't think past the overwhelming urge to kill any man who'd touched her. Right then, he was every inch the monster she'd repeatedly accused him of being.
"…change the subject," she was saying. "We're not girlfriends at a slumber party. I don't want to be discussing this with you."
Nor should she. Her sexual past was her business, not his. But when he opened his mouth, none of those reasonable statements came out. Only his maddened jealousy did, inflamed by his feelings for her and the seething territoriality all vampires had over people they considered theirs.
"Well, well, well. Kitten's catted around, has she? The way you act, I'm surprised."
Shut it, fool! the sane part of him urged. Stop!
But he didn't. "Chap waiting patiently for you to finish your training? Must be quite a lad, to get you all hot and bothered.  Again, didn't peg you for the experienced type, but then you did offer me a taste when we first met. Makes me wonder now if you planned on staking me before or after you got your itch scratched. What about the other vampires? Did they die with a smile on their-"
She slapped him. He'd never deserved it more. He caught her wrist, though, because her violence fed the beast he was now using all his strength to contain. She whipped her free hand at his cheek. He caught that, too. Then the expression on her face tore through his insanity. If anyone else had caused her that level of hurt, he'd rip them to pieces.
"Don't you dare talk to me that way." Her voice shook. "I've heard enough of that crap growing up. Just because my mother had me out of wedlock, our stupid, old-fashioned neighbors thought that made her a slut, and me too, by default. And not that it's any of your business, since you've probably raped villages full of women, but I've only been with one person. He dropped me like a bad habit right afterward, so that was enough to cure me of any desire I had to duplicate the sexual escapades of my peers. Now, I mean it, I don't ever want to talk about this again!"
Rage and humiliation had turned her breathing into pants, and her pulse lashed him with its every rapid beat. He barely even registered the rapist insult. He was too gutted for causing her such pain. 
"Kitten, I apologize," he said, knowing that wasn't nearly enough. He also couldn't explain the reason behind his sudden, unhinged attack. Besides, his lack of control was his problem, not hers. So, he went with the logic that had failed him before.
"I had no right to say that to you. No one does. But just because your ignorant neighbors took their bigotry out on your, or some pimply-faced teenager pulled a one-nighter-"
"Stop it," she interrupted, tears brightening her eyes. "Just stop it. I can do the job, I can fake sexy, whatever. But we are not discussing this."
As if he cared about the bloody job! "Look, luv-"
"Bite me," she spat, and stalked off.
He watched her go, feeling every inch the cad she thought he was.
Chapter Nine
When the last echoes from her footsteps ceased, he was still in the same spot. Stalactites on the ceilings of the limestone antechamber caught the additional lights he'd set up for her and reflected them back at him. He'd also gotten a couch for her to sit on, a table so she had something to set her belongings on, a telly to watch if she ever stayed past her training schedule–-she hadn't, but one day she might–and space heaters so she would no longer shiver in the cave's chilly temperature. Now, every item seemed to mock him with her absence, and when the extended silence confirmed that she was truly gone, he felt more alone than he had in decades.
Everything that mattered most to him had just left.
He took another minute to feel every bit of the blame, regret, and loneliness that his actions had wrought. Then, he resolved to fix it.
Advice would help. He was hardly the first vampire to fall victim to jealousy mixed with preternatural possessiveness, after all. Bones pulled out his mobile, scrolled until he saw his best mate's name, then hit "call."
Charles answered on the second ring. "Crispin! How goes it? Still in New Orleans?"
"I'm in Ohio now," Bones replied, used to Charles calling him by his birth name. He did the same despite Charles long ago renaming himself Spade-– the tool he'd been assigned when they were both prisoners at the New South Wales penal colonies in the late seventeen hundreds. 
"'Fraid this isn't a social call, Charles. I need some advice. I'm in over my head with a particular situation."
His friend let out an indulgent laugh. "Indeed? What are the lovely lasses' names? Or are there too many for you to remember?"
A grim smile stretched Bones's lips. "It's only one lass, and I'm more than a little in love with her."
A car horn blared through the line. Charles muttered something, then said, "Sorry, mate. I'm on my way to London, and traffic is murder. You were saying something about her being little in size and you loving it?"
"That's not what I said." Now Bones made sure to enunciate each word. "I said I'm more than a little in love with her."
"What?" The screech made Bones hold his mobile further away from his ear. Still, he heard the rest clearly. "How? Who is she? And why didn't you tell me before now? We spoke only four weeks ago!"
"I hadn't met her four weeks ago."
"Crispin." Charles's tone changed from loud shock to the softer, calm one he normally reserved for people teetering on the edge of sanity. "You're telling me you've fallen for a woman you've known less than a month?"
"What did you tell me, way back when I said something similar to you about Giselda?" Bones replied. "You said, 'you never have to wonder if you're in love. When you are, you'll know it.' I know it, Charles. The length of time I've known her doesn't matter."
Silence. Bones didn't know if it was more doubt on Charles' part, or because he'd mentioned Giselda. Even a century later, Charles hadn't gotten over her death. Bones used to think that amount of grief was excessive. Now, he understood.
"Then I couldn't be happier for you," his friend finally replied. "Tell me about her. I want to know everything."
Bones closed his eyes. "Her name is Cat, and she's an exceptionally strong, brave woman who's two hundred years too young for me, hates all things vampire, has already tried to kill me twice, and currently loathes the very ground I walk upon."
He heard a screech of brakes, several horn blasts, and then finally, Charles's laughter. "Sorry, mate, accidentally ran the car off the road. Now that I'm safely in a ditch, do repeat yourself because you didn't just say the object of your shocking devotion hates you."
"You heard me," Bones said dryly. "I haven't even gotten to the best part. She's also half-vampire."
Longer stretch of silence. Bones broke it with a sharp laugh. "I know. Impossible, right? If I hadn't seen the proof of it myself, I wouldn't believe it, either. But she is, and she's been taught to hate our kind–and herself-–because of it."
"Oh, Crispin." Charles's voice was a sigh. "Leave it to you to take the hardest possible road yet again."
"Someone has to walk it," Bones said, knowing Charles meant more than his new love interest. His best mate had long fretted that Bones's line of work would kill him one day, but someone had to stop the worst among their kind, and vampire law only afforded one loophole.
Kill a vampire protected by a powerful Master for moral reasons, and your line and theirs would likely go to war. But kill a vampire protected by a powerful Master because you took the contract someone had put out on the sod's life, and that was simply the cost of business in a free market society.
So, when Bones could strike a blow for the better, he did. Getting paid afterward was merely the icing on the cake.
"We're not having that old argument," Bones said. "I need to know what you did to stop yourself from going barking mad whenever jealousy hit. Just now, I found myself berating her for not being a virgin. Can you believe I, of all people, did that?"
"Crickey," Charles muttered.
"Exactly," Bones said with more dryness.
Charles sighed again. "You can't learn to feel it any less. At least, I didn't. But you can learn not to take it out on her. When it strikes, force yourself to walk away while remembering that what you're feeling is only a chemical surge despite it being turbo-charged by our supernatural natures. Or force yourself to walk away while making the phrase 'bite your tongue' a reality. Or walk away while punching yourself very hard in the face. Anything except giving voice to that out-of-control emotion."
Sound advice, indeed. "Thanks, mate. I owe you."
"No, you don't." Sadness edged Charles's tone now. Bones could almost picture him running a weary hand through his spiked black hair. "I'm still in your debt and ever will be. But enough of that. When do I get to meet this wonder of biology and thief of previously-hard hearts?"
"When she won't try to kill you on sight," Bones replied, his mouth curling at Charles's instant laugh. "I'm not joking. She might look harmless, but her fighting skills are quite impressive. Soon, she'll be equal to a strong vampire."
"She wants you dead, and you're training her to be better equipped to carry out that objective?" Spade snorted. "Unless you have a death wish, you're going about this all wrong."
"On the contrary," Bones replied in a light one. "I've never had more reason to live. But until she stops seeing all vampires as the enemy, you can't meet her, and for obvious reasons, don't tell anyone about her."
Charles grunted. "If the past is prologue, when other vampires learn what she is, half will want to claim her while the other half might want to kill her."
Bones's fangs shot out, and he nearly crushed his mobile from his fists instinctively clenching.
No one would hurt her or take her from him. He'd slaughter the lot of them first!
But, practicing the techniques Charles had just suggested, Bones said none of that. Instead, he bit his tongue until the taste of blood calmed him.
"Another reason it's important that she learn to be at her fighting best," he replied in a very controlled tone.
"You, too," Charles said softly. "When Ian hears of her-"
"I'll be free from his line by then," Bones said, his tone hardening. "And I'll take all who are mine with me."
Charles grunted. "And if Ian objects to your bid for freedom?"
Bones's jaw tightened until Charles should have heard the cartilage crack. "Doesn't matter. If Ian refuses to grant my freedom, I'll challenge him and take it."
Pause.
Then, "I hope you know what you're doing, Crispin."
Never more so.
"Thanks, mate. Until again."
He hung up before Charles could say anything else. There was no need. Bones knew the risks. They didn't matter. Only protecting her did. To do that, he'd have to repair the hurt he'd caused, and also resume hunting the cartel he'd been chasing. Now, he had another compelling reason to stop them. If the cartel had set up their new base in Ohio, as Bones suspected, there would be bodies here, just as there had been in Bennington, Vermont, and in Juarez, Mexico. 
Find the dead, follow the money, find the killers. Same formula he'd used many times before, though normally, he had to find the dead by scouting out various sites according to rumor and whispers, and then keep digging until he hit graves.
But Cat's lineage straddled both sides of the grave, so with her, he might have a short cut…
***